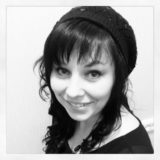 Hello! After many years of being a preschool teacher, which I really loved, I decided to go back to two of my life's passions, which are traveling and writing. While I miss being with small children and the joys that come with working with them, I'm really happy to be following my dreams of writing full-time, as well as getting to go to different places all over the world.
The reason I'm able to travel around so much is that I'm in a long distance relationship, and fortunately my boyfriend loves to travel as much as I do, if not even more. He teaches in Europe and I'm in the U.S., and so we cross the ocean to be with each other several times a year. Long distance relationships have their own set of challenges, but believe me, they also have some amazing perks and bonuses.
When in Europe we've gone for long road trips across Germany, Austria and Italy, and of course I needed to visit England at least once in my life—in honor of all the famous British men and women who were my favorite authors when I was growing up. And yes, we did place a lock on a bridge in Paris.
This year, as a special treat for my boyfriend's birthday, we were able to visit Australia and Fiji, which we enjoyed immensely. Especially Fiji, where we were able to enjoy snorkeling among the fish, starfish, stingrays and corals everyday to our hearts content. And we've traveled to several places around the Philippines, where my relatives live. We love the beach, and visiting the beautiful beaches and making friends among the warm and friendly Filipino people is a dream come true.
I started writing about my travels after my first trip to Europe to visit my boyfriend. What was originally supposed to be a twelve-hour flight stretched out to almost thirty hours, much to my dismay. It meant I was lugging around my heavy luggage across three cities in as many airports, which was no fun. And so, because I believe that when life gives you lemons, make lemonade, I decided to make it a point to learn to travel as comfortably and as happily as possible. This has meant searching the best pillows, jackets, luggage, and all the travel accouterments you can name.
Hey, after all, if I'm going to travel around a lot, I may as well get really good at it, right?
And what I learn, I want to share to the whole world.
Travel is a great privilege, but it's not always the most pleasant one.
So now I write for you all, as well as on a few travel sites across the net, reviewing products and promotions, telling my stories, and giving tips to make your trips and vacations truly memorable and enjoyable. Whether you travel for business or for pleasure, you can learn a lot from my reviews.
Happy travels! The world is a big beautiful place—and there is so much to see and experience.