Thin Pillows May Be Better For You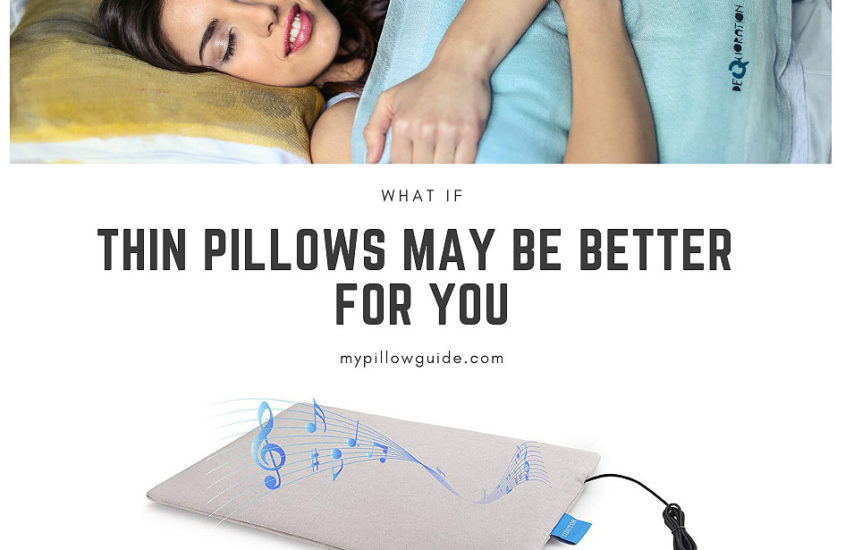 Thin pillows? You might be asking: "are you serious?"
Everyone seems to think that when it comes to pillows, the thicker and fluffier they are, the better, right? When you go to a hotel, very often one of the things you end up falling in love with is the thick pillows. More than once, I must confess, I have wondered where hotels get their awesomely fluffy pillows.
But hold on for just one minute. It has come to my attention that when it comes to pillows, bigger does not always mean better and that there are times when thin pillows are actually better for people.
This seems to defy conventional wisdom. After all, why would anyone choose to have a thin pillow when they can have a great, big, fluffy one?
Now, as I have said over and over again, there is no best pillow for everyone. Pillow preferences are highly personal and subjective. Whatever suits you best is what gives you a good night's sleep and helps you wake up rested and refreshed in the morning, ready for another day of work or school.
And yet, experts believe that in certain cases thin or slim (or even ultra-slim!) pillows are better than thick ones. There are times when a thin pillow is more advisable to be used than a thick one.
Read on and I'll tell you all about it.
If you don't want to read too much, here is a quick rundown of reviewed pillows:
|   | Model | Filling | Size | Amazon |
| --- | --- | --- | --- | --- |
| | The Elite Rest Ultra Slim | Memory Foam | 2.5 inches (6.35 cm) thick | Price |
| | Bluewave Bedding Ultra Slim | Cooling pillow: uses gel-infused memory foam | 2.5 inches (6.35 cm) thick | Price |
| | TruContour Soft | Memory Foam | 3 inches (7.62 cm) thick | Price |
| | LumaLife Luxe Low Profile Orthopedic Cervical Pillow | 100% natural latex | 1 inch (2.54 cm) thick | Price |
| | The Pancake Pillow | down-alternative microfiber | | Price |
| | The Smart Ultra-Thin Pillow Mat with Built-In Speakers | Short Fiber | 0.3 inch (0.7 cm) thick | Price |
What is a thin pillow?
While there are no strict guidelines on what makes a thin pillow, most industry experts agree that it is the loft of the pillow that determines whether it is a thin or thick pillow.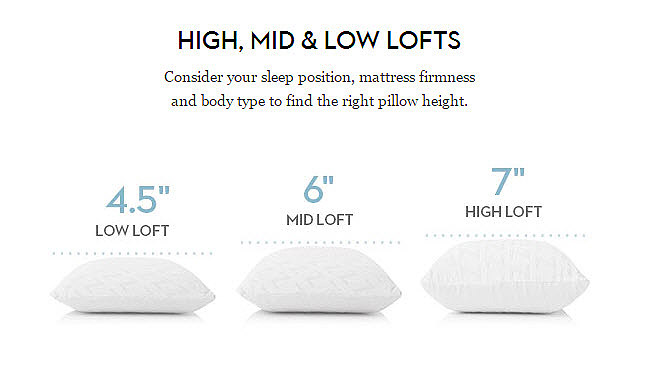 Pillow loft simply refers to the height or thickness of a pillow.
Low pillow loft refers to pillows that are less than 3 inches (7.62 cm) high.
Medium pillow loft refers to pillows that are 3 to 5 inches (7.62 cm to 12.7 cm) high.
High pillow loft refers to pillows that are more than 6 inches (15.24 cm) high.
Thin pillows have a low pillow loft, measuring around 3 inches in height, and varying in material, covers, special features, etc.
Now, there are also ultra-thin pillows that are even less than 3 inches high, ranging anywhere from 1.8 to 2.5 inches in height.
How do I know if I need a thin pillow?
One way to determine whether a person needs a thin pillow can simply be a matter of size.
The website sleeplikethedead.com discusses all sorts of things that make for a good sleep. It was created in 2008 by a man named Nick Robinson, who is unashamed to be passionate about sleep. Mr. Robinson suffered from terrible insomnia for many years, and his life was miserable.
He was able to recover from insomnia, and in addition to this, started the pursuit of the best sleeping conditions possible by reviewing materials that affect sleep such as beddings, mattresses, pillows, white noise machines, and the like.
In helping himself get better sleep, Nick Robinson wanted to help other people get good sleep too.
On one of the pages on his site, he provides a pillow loft calculator for everyone, based on your preferred sleeping position (back, side or front) as well as your size, weight, head and shoulder size, and how firm your mattress is.
This guy's got this thing down to a science. And it makes perfect sense, because if you think about it, how can a large person be comfortable with a thin pillow, and how can a small person sleep well with a very big one?
The website explains why the different factors come into play when it comes to pillow loft.
Sleeping position
Side sleepers generally need pillows with a medium to high loft, because of the space between the shoulder and the side of the head that the pillow needs to fill.
Back sleepers generally need a medium loft pillow, since a high pillow could cause some amount of neck strain.
Front or stomach sleepers need the lowest loft of all, and it is not uncommon for some to not use pillows at all.
The size of the head – the bigger your head is, the more likely you are to need a pillow with a higher loft size to support it.
The size of the body – if you are a big person, you actually sleep closer to the mattress of your bed than a slimmer person does. In such a case, you may need a pillow with a lower loft, as you are already quite close to the mattress.
The width of your shoulders – if your shoulders are quite broad, you may actually need a loftier pillow because your head will be far from the mattress. The narrower your shoulders, the closer you are to the mattress, and so you won't need a very lofty pillow.
The firmness of your mattress – If you prefer a very soft mattress, you generally need a thinner pillow. The firmer your mattress is, the more loft you need in a pillow.
And finally, where you place your head on the pillow — some people sleep with their head fully cradled onto a pillow, and some place their heads only at the edge of a pillow. If you are in the former category, meaning you sleep with your whole head on the pillow, you'll generally need a less lofty, or even a thin pillow. If you sleep at the edge of the pillow, you'll need a higher pillow.
So, how about giving the pillow loft calculator a try? Just choose the sleeping position you are most used to, type in your head size, body size, pillow placate and mattress firmness, and the page will calculate the best pillow loft for you. (PS: I got a score of 22, which puts me right in the middle of the medium loft pillow category. This makes perfect sense since all of my pillows are in between 3 and 5 inches anyway.)
Who really needs a thin pillow?
The biggest goal of any pillow is to ensure spinal alignment and adequate support for your head. As we know well by now, this is the only way that you will wake up pain-free in your neck, shoulders and upper back.
So in theory, anyone can use a thin pillow, as long as it gives them enough rest. And in reality, thin pillows work best for back sleepers, stomach sleepers, people of small or petite stature, and children.
In this helpful video sleep expert Sammy Margo demonstrates how a thin pillow works best for such people:
Frequently asked questions about thin pillows
If I have neck pain, should I try switching to a thin pillow?
The answer to this is yes. The neck pain you suffer could be due to a misaligned spine as you sleep, because of a pillow that is too high. You may want to try out a thin pillow and see how it works for you. Pro tip: why not get a pillow with a 30-day warranty, so that you can return it if it does not work for you?
My young child has never used a pillow. Should I use a thin pillow first to make the transition easier?
This is actually a good idea. Children who have never used a pillow may find a high or even medium loft pillow to be uncomfortable and may have a hard time sleeping while trying to adjust to a normal pillow. Having them sleep on a thin pillow can definitely make the adjustment easier. Besides, most children sleep on their backs and stomachs anyway, so having a thin pillow is a good choice.
I'm pregnant. How can a thin pillow benefit me?
As all mothers know, a comfortable sleeping position is a big challenge the further along your pregnancy you get. You can use a thin pillow as a support for your stomach by sleeping with it on your side.
I'm a side sleeper, should I switch to a thin pillow?
In general, this is not the best idea. You need good support for your head and shoulders, and a higher loft would be ideal for this. However, if you do want to try out a thin pillow, go for the thicker ones among them, not choosing the ones that are under 3 inches in height.
Aside from loft or height, what else should I consider when choosing a thin pillow?
As always, when choosing a pillow, the material or stuffing used to fill the pillow is an important consideration. If you get easily warm when you sleep, you may prefer down, buckwheat or other natural materials for your pillow, since they are more breathable than synthetic materials such as memory foam or other latex types of stuffing.
A sampling of thin pillows available today
When the manufacturer labeled this pillow as "ultra slim," they weren't kidding. Coming in at only 2.5 inches (6.35 cm) thick, this pillow is very versatile. It's flat on one side to keep it from moving around in your bed since thin pillows tend to be lighter. This one is only 1.8 lbs, which means it weighs less than a kilo.
The other side is rounded, like any normal pillow, on the other. It was created specifically for back and stomach sleepers and is filled with memory foam that is hypoallergenic and resistant to bed bugs, as well as anti-bacterial and anti-microbial.
Because it's made of memory foam, some people who bought it complained of the usual chemical "off-gassing" smell, but they also said this went away after a day or two of usage. Oh, and if you're the kind of person who sleeps with their arm under their head, this would be a good choice for you, because this pillow is so slim.
Sale
Elite Rest Ultra Slim Sleeper - Firm Memory Foam Pillow, Premium Cotton Cover, Great for Back and Stomach Sleepers, Hypoallergenic - Ultra Thin Low Profile 2.5 Inches
STOMACH SLEEPING & MORE: The thinnest pillow out there - 2.5 inches ultra slim pillow with ergonomic edges is specifically designed to provide maximum comfort for stomach or back sleepers who like their pillow extra ultra slim
PREMIUM 100% COTTON COVER: Removable, Machine Washable Premium 100% Cotton Cover - Standard Sized 24x16 Inches
SPINAL ALIGNMENT & IMPROVED BREATHING: Thin and flat design provide comfortable spinal support, may reduce snoring, help breathing and improve neck, back, and/or shoulder pain
SAFE PREMIUM MEMORY FOAM: Highly durable and long lasting, odor-free and hypoallergenic memory foam
DUAL SLEEPING SURFACE: Half pillow design for extra stability with a rounded top and flat bottom - best for sleepers who do not flip their pillow when sleeping
---
This pillow also comes in an extra-firm version for $35.95. Now, I don't know why the extra firm one is actually less expensive than the regular model, it just is. It's also 2.5 inches (6.35 cm) thick, and like the Elite pillow above has a flat surface and a rounded one.
Unlike the Elite pillow, this is a cooling thin pillow, since it uses gel-infused memory foam, and is ventilated for good air flow throughout the pillow. It's also hypoallergenic and has a bamboo-derived washable cover, which is said to be ultra soft. And it is also quite flexible and can work as a lower back support cushion, or can be placed between the knees, as well as being a regular bed pillow for sleeping.
And, unlike the Elite pillow as well, this thin pillow packs some considerable heft at 3.55 lbs (1.6 kg.) A lot of people like this pillow very much indeed, some mentioning that it's a great pillow for stomach sleepers and that their neck pain disappeared after they used it. And the cooling function of the pillow was a definite plus.
Bluewave Bedding Ultra Slim Gel Memory Foam Pillow for Stomach and Back Sleepers - Thin and Flat Design for Spinal Alignment and Enhanced Sleeping (2.75-Inches Height, Standard Size)
IMPORTANT UNPACKING INSTRUCTIONS: Fluff pillow in clothes dryer on medium heat for 20-30 minutes and wait 24 hours for pillow to fully expand. This will expand your pillow to full size, work out any bumps or dents, and should leave your pillow entirely odor free!
LESS STRESS, DEEPER SLEEP: Less than 3 inches high, this ultra low profile pillow for sleeping is designed for stomach, back, and even small-framed side sleepers who want support without excessive loft. Improved spinal alignment may alleviate snoring while improving shoulder, back and/or neck pain.
ADVANCED COOLING FEATURES: Infused gel particle technology absorbs and moves excessive heat away from the sleeping surface. Ventilation holes increase air circulation to help keep you cool all night long. The removable, washable bamboo/polyster stays cool while you sleep.
PREMIUM CERTIPUR-US CERTIFIED MEMORY FOAM: Don't settle for cheap, inferior low density memory foam. Our supportive CertiPUR-US certified memory foam is guaranteed free of unnecessary additives.
DUAL SLEEPING SURFACE: The Ultra Slim Original Pillow is designed with a contoured top and flat bottom. This style may provide additional support for sleepers who do not flip their pillow during the night.
---
TruContour advertises this pillow as perfect for stomach and back sleepers since it's only 3 inches (7.62 cm) thick. This thin pillow is available both in the firm and soft models, depending on your preference, and both types are made of medical-grade memory foam gel. It comes with a very soft, double-knit cover in organic cotton, which is said to make the pillow more breathable.
Like other pillows, it is also dust-mite resistant and hypoallergenic, and its cover is completely machine washable. TruContour stands by this pillow so much that if any damage should happen to it within one year of purchase, they will replace it free of charge. And, if you are unsatisfied within a month of buying it, they will give you back your money in full.
This thin pillow seems to work well for people with back and neck pain issues, and who have swapped out their regular pillow for a thin one. For a memory foam pillow, there have been no complaints of strong "off-gassing" smells, however, a few people who have used this pillow say that even the soft version is still a little too firm. It certainly is quite a bit heavier than the other pillows, coming in at over 4 pounds, which is almost 2 kilos.
Thin Memory Foam Pillow for Stomach Sleepers, Only 3 in Tall, Slim, Flat, Low Profile Design
IDEAL FOR STOMACH SLEEPERS - Special thin, flat, low profile pillow engineered specifically for stomach and side sleeping. Only 3 inches in height!
SUPER COMFORTABLE MEMORY FOAM FOAM - Designed specifically for sleepers who prefer a moderately soft pillow. Manufactured from medical-grade memory foam to ensure that foam will not wear out over time.
ULTRA-PREMIUM COVER - Super-soft, double knit, machine-washable cover features Certified Organic cotton and is designed to enhance breathability.
HYPOALLERGENIC - Perfect for those with allergies or skin/nasal sensitivities.
HAPPINESS PROMISE - TruContour takes pride in providing premium products and quality service. If anything should happen to your seat cushion send it back within ONE YEAR and we will ship you a brand new one free of charge. We provide a full refund within 30 days if you are not completely satisfied.
---
This thin pillow was specially designed for people with pain issues not only in their necks and shoulders but also for those who suffer from TMJ (Temporomandibular Disorders) which can be extremely painful in the jaw area.
Indeed, this seems to be a wonder pillow of sorts, as it claims to combat wrinkles, acne, and aging, reduce snoring, and aid with facial surgery recovery.
Sounds impressive, right? This thin pillow is made of 100 percent natural latex. It has a hollow "nest" in the middle of the pillow for cradling your head. This is the thinnest area of the pillow, at only one inch (2.54 cm) thick. It fights wrinkles, acne, and aging by keeping your face off the pillow, and so serums and moisturizers on your face do not rub off.
The "nest" also keeps your head and neck in perfect alignment, thus eliminating pain. It is designed to help reduce snoring by keeping your mouth and nose unobstructed. And, buyers unsatisfied with the pillow get a full refund within 30 days of purchase.
It has a little bit of a higher loft at 3.5 inches (8.89 cm), but is not as heavy as the other pillows, since it's only 2.8 lbs, which is less than a kilo. Its cover is fully machine washable, too, though some users choose to put a pillowcase on top of the cover.
Users report great satisfaction with the pillow, especially those who suffer from TMJ and neck and back pain. This medical thin pillow seems to be well worth the price.
LumaLife Luxe Low Profile Orthopedic Cervical Pillow: Relieves Neck & TMJ Pain, Anti-Wrinkle, Anti-Aging, CPAP Compatible, Reduces Snoring, Facial Surgery Recovery, 100% Natural Latex (Standard)
THINNEST CERVICAL SOLUTION: Neck support without all the fluff. Center head cradle area only 1 inch thick. Slim design relieves neck pain by supporting your neck and keeping your spine in neutral alignment without pushing your head too far forward while sleeping.
ANTI-WRINKLE, ANTI-AGING, ANTI-ACNE: One-of-a-kind design keeps your face off the pillow. Helps to eliminate wrinkle causing sleep lines by reducing pressure and stress on delicate skin. Allows anti-aging and anti-acne creams to absorb better by preventing rub-off onto the pillow.
REDUCE HEAD & NECK PAIN: The ergonomic, contoured shape gently cradles your head and neck in a center "nest" while 2 sides (with varying levels of support) and sloped edges deliver comfortable sleep in any position. 100% latex foam provides excellent support and helps align your spine.
CPAP COMFORT & REDUCE SNORING: Low-profile, 4-zone customizable design won't obstruct your nose and mouth and helps open airways. Makes a perfect fit for CPAP mask wearers. No more feeling smothered as you do with feather or shredded foam pillows.
FRUSTRATION FREE GUARANTEE: Finding just the right pillow can be a chore. We're certain you'll love this unique design, but if not, simply return it within 30 days for a refund of your purchase price.
---
When you need a thin pillow on some days and a thick pillow on others
The Pancake Pillow is exactly what it sounds like—a fully adjustable stack of six thin layers so that you can choose the perfect fit for you. This way, it works for back sleepers, side sleepers, and stomach sleepers. It's filled with down-alternative microfiber fill that is also hypoallergenic, and its pillowcase is 100 percent cotton with a 300 thread count, and the zipper runs through three sides for convenience. Sounds impressive, right?
The Pancake Pillow is manufactured by Gravity Sleep. You can also buy extra pillowcases, and if you like sleeping on thin pillows, you can sleep on two of the layers, which means you could actually make three pillows from one order!
This pillow is completely machine washable on the gentle cycle and can be returned if you're unhappy with it since Gravity Sleep guarantees satisfaction.
---
When you need a thin pillow with perks
As the name suggests, this super slim pillow mat has several extra functions that normal pillows don't have. First of all, it has speakers that you can listen to music or podcasts to when you connect your phone or media player to it, and the beauty of it is that it's only the person lying on the pillow who can hear the sounds, even the person sleeping beside you won't hear what you hear.
So, this is great for couples, right? If you like to sleep with music on, and your partner doesn't, no sweat. And the partner who likes music doesn't have to wear earbuds or headphones every night. On the downside, the player inside the pillow does not have any volume control, so you pretty much get the volume that the player sets, and won't be able to adjust it.
What's also cool about this thin pillow is that it includes a sleep tracker whose data is transmitted to your cell phone, so you can keep track of how well or how poorly you sleep every night. It also comes with an "intelligent alarm clock" to wake you up at your lightest moment of sleep.
Smart Pillow Mat Ultra-Thin Pillow Speaker/Homemade Sleep Aid Music/Sleep Monitoring Tracker and Intelligent Alarm Clock/Bed Linings Pillow Headrest Audio Players/Free APP
The overall thickness of the headrest is less than 0.3in,4-core extended wire is 47in. This product can not be used alone, you need to insert your pillow job.The headrest with portable design and a hidden zipper can be removed and washed, safety and no radiation reliability make you sleep comfortably
Using with an APP can give a better play to the APP's brain wave sleep aid effect and sleep management function; your sleep quality can be evaluated accurately and you can be waken at the optimal time via sleep monitoring
The headband monitors your deep sleep,shallow sleep,clear-head,and transmit collected data to the cellphone through a connecting wire; then the APP performs analysis and processing of collected data and evaluate your sleep quality according to a scientific standard
Before sleep, connect the audio wire plug with a cellphone/audio player, and then start software to play binaural-beat audio or another music and your own favorite music.This product can be returned in full within 30 days
It can easily help you eliminate the sharp sound of ordinary headphones and squeeze the ears of the trouble, you feel wearing a stealth headphones.Note: The volume can be adjusted by your playback device.APP use first to register an account with mail, and then use Serial Number and password to activate the account. If not, please contact us by email. We will provide an activation number again.
---
Would you give a thin pillow a try?
Honestly, I am very happy with my medium loft pillows, especially since I read, and sometimes even work on my laptop in bed. But, having said that, it's so good to know that thin pillows are readily and widely available, and I will keep them in mind for future pregnancy, children and health issues.
If you've suffered from neck pain, and want to try out some regular loft pillows, check out this article I wrote, where I list the best pillows for neck pain available. I hope my suggestions help you find what you're looking for.
Would you like to try a thin pillow for yourself? Or do you have one and it works well for you? Let me know in the comments, I always love to hear "pillow talk" (pun intended!) from everyone.
Till next time!