Do Pillows Cause Wrinkles? Are anti-wrinkle pillows exists?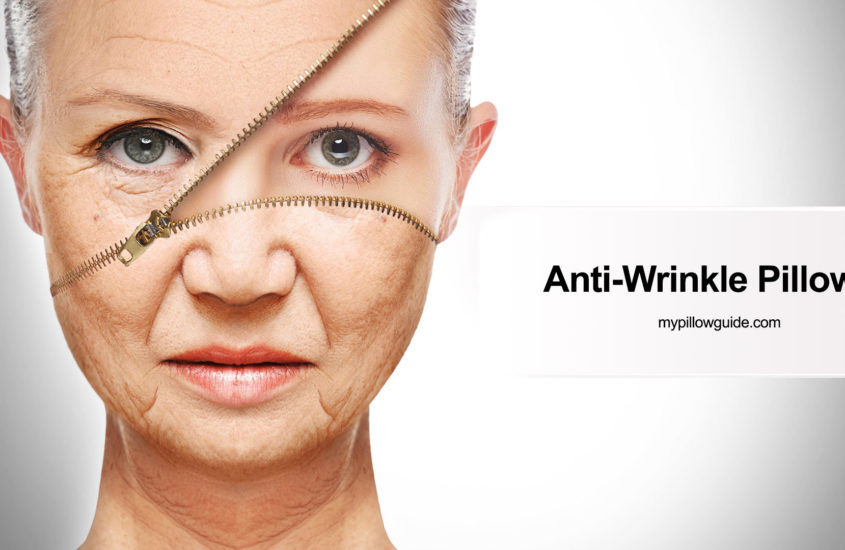 And so, we come to something that's very important to us ladies – our skin. More specifically, the skin on our faces. Most specifically, we need to answer the question as to whether or not pillows contribute to wrinkles forming on our faces, because if they do, should we do something about it?
Come to think of it, would I be willing to forego my beloved bed pillows if there were scientific proof that they contribute to something that makes me look… older? It's a terrible thought because I love the ultra-comfortable down feather pillow under my head, as well as the sausage-shaped body pillow I hug all night and many times, snuggle my face against.
It would take A LOT for me to give these up, or replace them with other ones.
And so, we should look at this problem seriously. Do pillows cause wrinkles or not?
Anti-wrinkle pillows: What science says…
A study in 1987 by Dr. Samuel J. Stegman, a dermatologist from California, USA, showed that the position in which you sleep could contribute to the formation of diagonal lines on the lower part of your face, as well as your cheeks, and also horizontal lines on your forehead. He called these "sleep creases."
Bad news, right?
But Dr. Stegman did make a distinction between these lines and the ones that are due to sun exposure, frowning, smoking, etc, which are definitely worse.
And then further research, later on, showed that when there is repeated tension that pulls the skin over a long period of time, wrinkles are formed. So, when we stay in a certain position that pulls on our facial skin, we'll end up with lines on our faces.
But here comes some more bad news: Dermatologists now say that the wrinkles that form because of sleep cannot be reversed by skin treatments, unlike wrinkles due to other causes. This is probably due to the fact that even if you treat these wrinkles cosmetically, if you go back to the same sleeping position every night, and so the damage continues.
So, the answer is yes. If you sleep in such a position where your pillow causes your facial skin to be pulled or pushed in a particular direction, it's likely that you'll get wrinkles.
"Oh no! So, should I get rid of all my pillows ASAP?"
Hang on a minute. No need to be hasty and throw all your favorite pillows out into the trash bin. Take a deep breath, because what I'm going to show you will help a great deal.
Option 1 – Train yourself to sleep on your back.
Now, I know this is easier said than done because number one, two-thirds of all adults sleep on their side (I knew I was normal) and number two, even if you do start out by sleeping on your back, studies show that people change sleep positions as many as 20 times every night, which means that you might still end up sleeping on your side with your face scrunched against the pillow, with lines forming on your face.
But what some people have done is sleep with a U-shaped horseshoe pillow that people use for traveling framing your head (like a headband) when you sleep. This will help you stay on your back rather than moving to the side. You can also make a conscious effort to return to lying on your back every time you wake up in the middle of the night. Muscle memory works even in your sleep, so if you train your body to sleep supine, your body will get used to it sooner or later.
Option 2 – Try anti-wrinkle pillows for sleeping
Now comes the fun part! Honestly, I love checking out new pillows, and recently some fantastic anti-wrinkle pillows have entered my sphere of consciousness. Of course, I would love to try them all, but this would not be very practical, and I'd end up filling my tiny flat with every sort of pillow imaginable, which would drive my boyfriend, family, and friends absolutely crazy. CBS even featured it as a news item sometime back.
The basic premise of anti-wrinkle pillows is to give you comfort while at the same time, remove contact between your skin and any fabric. This is why most anti-wrinkle pillows have a strange shape, kind of like the letter "H." This is to give the sleeper room for their face to rest without squeezing their skin against a pillow. Many of them have a deep contour in the middle to encourage sleeping on your back, and quite a few are covered in a silky pillowcase in order to be gentle on the skin. Silk wicks away moisture, while cotton absorbs it, so there's that factor as well.
But here's anti-wrinkle pillows available on the market today:
|   | Model | Filling | Amazon |
| --- | --- | --- | --- |
| | The JuveRest | Memory foam | Price |
| | The Beauty Loop Anti-Wrinkle Pillow | Memory foam | Price |
| | The Beauty Bear | regular stuffing / memory foam | Price |
| | The Womfy | Memory & Gel Foam Core | Price |
| | The Hammacher Beauty Pillow | Polyurethane foam | Not Available yet |
| | The NIGHT Pillow | "airlight" memory foam | Price |
| | The Back to Beauty | Micro-fiber | Price |
| | Save My Face | Hypo-allergenic Fillling | Price |
– a memory foam pillow that absolutely defies the shape or a regular pillow. Honestly, it looks more like part of a child's building set than a pillow, since there are hollow spaces on the surface for back sleepers to sleep on their backs, as well as ones near the edges for people who sleep on their sides. Space creates an area where your skin won't touch the pillow, hence, no touching of skin, no pulling. And, no pulling, no wrinkles.
JuveRest The Sleep Wrinkle Pillow with Cover
Doctor recommended and clinically tested, 9 out of 10 report skin looks better after using JuveRest
Reduces facial distortion by 1700% as compared to regular pillows for more youthful looking skin
Safe, comfortable, easy-to-use, more effective than expensive skin care treatments
Plastic surgeon developed wrinkle solution for men and women of all ages
Patented anatomical support system reduces facial compression all night long, every night
---
– This is a cushioned ring that you fit around your head before you sleep. This way, as you lie on your favorite pillow, your skin is lifted up and won't touch the surface beneath. It is simply slipped over your head "like a crown" as the dermatologist on the introductory video explains, and has an adjustable band at the back for a perfect fit. It comes in stylish designs which makes it attractive to users, plus is handy to travel with since it's quite small.
Beauty Loop Anti Wrinkle Pillow (Purple)
The Beauty Loop allows you to sleep in ANY position while keeping your face lifted and protected
The Beauty Loop helps to keep you face line and wrinkle free while you sleep
The Beauty Loop helps to reduce the flattening of your face that occurs over time from sleeping on your pillow
The Beauty Loop may help to reduce movement of your facial fillers and keep eyelashes and lash extensions tangle free
The Beauty Loop may help to keep your facial creams on your face and less on your pillowcase
---
– This is a small pillow that comes with regular stuffing and memory foam stuffing. The pillowcases are made of silk and can be taken off for washing. Silk pulls your skin and hair less than cotton or other fabrics. The Beauty Bear does follow a bear shape rather loosely, hence the name. If you sleep on your back, your head lies between the bear's legs, and if you sleep on your side, your face is cradled in the space under the bear's chin and above the front legs. People who have sensitive skin or are prone to get contact dermatitis or rosacea appreciate the beauty bear because this pillow eliminates contact. Smaller people may prefer the regular pillow to the memory foam model, because the memory foam one tends to be thick and dense, making it more ideal for bigger people.
Beauty Bear Age Delay Pillow - Purple
The ultimate anti wrinkle pillow for minimizing sleep lines and wrinkles while you sleep.
Helps minimize sleep lines and wrinkles
Silky, Satin pillowcase for delicate skin
Helps provide neck and lumbar support
Convenient and easy for travel
---
– This pillow is shaped like a small hill and has holes for your ears. Yes, I know that sounds weird, but bear with me. In all fairness, at the very least your ears won't hurt when you wake up. You can also insert additional foam into the pillowcase so that it can become thicker since the pillow is quite a bit thinner than other pillows. The Womfy's biggest advantage is that it cradles your head quite well since there is a hollow in the middle. The hollow also prevents you from moving around too much and encourages back sleeping. Because the surface is not flat, there's no room for your skin to get squished, and so you can say goodbye to wrinkles. As an added benefit, people who have to use the Womfy say that it also helps eliminate neck pain.
---
– This pillow is shaped like a butterfly wing, with spaces in the middle and the side. It is made specifically for side-sleepers, which, as I mentioned earlier, most of us are. What you do is put your face in one of the side spaces, and then your shoulder fits perfectly into the hollow in the middle. The rest of the pillow extensions serve to hold you snugly while you sleep since this pillow is quite a bit bigger than other pillows. Like the others, this pillow makes sure that your facial skin is elevated from the rest of the bed, eliminating contact as much as possible, in order to prevent wrinkles. It can be used by itself, or put on top of another pillow.
---
– This is a black pillow that doesn't use a pillowcase. It's made of "airlight" memory foam and is supposed to be a "beauty secret." It's called this because it helps your hair as well as your skin. The cover is made of silk, which we already know is hair and skin friendly, as it minimizes friction. It's black because it's meant to mirror the night, thus encouraging more sleep, as opposed to the color white, which reflects light (and most pillows are colored white), so this one is different. The memory foam self-adjusts to the weight and shape of your head. It may be the most unusually colored of the anti-wrinkle pillows, but it's also the most traditionally shaped since it's a regular rectangle.
Night Anti-Aging, Oxygenated Memory Foam Pillow with Moisturizing TriSilk Pillowcase, Stripe Border, Standard/Queen
101 NIGHT SLEEP TRIAL. Sleep with us for 101 nights. If you are not obsessed, we provide a full refund.
Self-Adjusting Memory Foam. Our expertly engineered memory foam is lighter and airier to provide the optimal balance of comfort and support.
TriSilk Moisturizing Pillowcase. Our proprietary spandex silk formula supports optimal moisture levels for healthy, beautiful skin and hair.
Intelligently Designed Black Hue. Signature black hue negates light acting like a built in sleep mask to promote deeper sleep.
Made in USA. 3 Year Warranty. TriSilk Pillowcase is machine washable.
---
– This pillow is designed to turn you into a back sleeper. It comes with three pillowcases – plush, cotton and satiny. It also comes with an instruction packet, which tells us that this is not your ordinary pillow! The basic shape looks like a regular white rectangle, but it comes with two crescent-shaped cushions on either side of the top of the pillow, which is designed to hold your head snugly while you sleep, thus training you to be a back sleeper. The instructions tell you to make sure to sleep on the correct side of the Back to Beauty, otherwise, the crescents will pinch your neck and cause you pain. Like the others, this pillow is designed to give you minimal contact between your face and the fabric, which means fewer wrinkles, or none at all.
Back to Beauty Anti-Wrinkle Head Cradle (Beauty Pillow)
FINALLY! The wrinkle-prevention beauty pillow that's the TOTAL beauty sleep solution! FOAM FREE! ANTI-Wrinkle, ANTI-Acne, PATENTED Versatile/Compact (Small) Design IMPORTANT DIRECTIONS: If you aren't a back sleeper, training yourself isn't easy, takes time, and ultimately is not for everyone. PLEASE VIEW the INSTRUCTIONAL VIDEO on this product detail page after the images (on desktop) and further down the detail page on mobile.
The tutorial video provides critical back-sleeping assistance, shows how to break in your new pillow, ensures crescent "top" of pillow is identified, and other options, like "Head Hammock" inverted position for those who prefer more open support opposed to the snug support of the crescents.
ANTI-WRINKLE (Face, Neck, Chest, Breast), ANTI-ACNE, AIDS BACK SLEEPING (Also helps train those new to back sleeping)
ELIMINATES the weight of your head from putting pressure on, or touching, delicate facial skin during sleep. Face lotions will be left undisturbed during sleep, allowing them to do their job.
PATENTED SMALL DESIGN: Foam Free! Only hypoallergenic down-alternative fiber and specialty materials designed SMALLER than a standard pillow to cradle the head, allow versatility in use, protect the face, and retain fluffiness. VERSATILE BEAUTY PILLOW: Can be used in several positions, alone, and on top of other pillows for added elevation and support-allowing you to find your personal comfort zone.
---
– This pillow is X-shaped and comes in two sizes, big and small, The smaller one is not a standalone pillow, but can be put on top of your favorite pillow. It can also work as a travel pillow. Speaking of good travel pillows, check out this article I wrote awhile back on the best ones available today. The bigger one can work on its own. Side sleepers can choose to put the sides of their faces on either space of the X. Back sleepers can fold the smaller "Save My Face!" in half and then use the pillow around their neck, like a cervical pillow. These are more flexible and adjustable than regular cervical pillows.
Save My FACE! Pillow Just The Pillow La Petite Size in Soft Champagne
Trademarked Double Crescent Shape Design allows you to sleep on either side without moving the pillow.
Easily folds in half to provide neck support while you are on your back.
Travels well; use on the airplane, car or even by the pool!
Whole pillow is Machine Wash & Dry for easy care.
Slick Satin is great for your hair and delicate skin.
---
So, there you have it, just a few examples of anti-wrinkle pillows that are available on the market today. Isn't it fascinating what we human beings invent when the need arises? These are obviously unlike the pillows you used to find in your grandmother or grandfather's house. And evidently, there are many people, especially women, who are willing to get a special pillow to sleep on in order to avoid getting wrinkles.
Just to let you know, many of these are not inexpensive. The pillows I wrote about above have a price range of $20 to more than one hundred dollars. PS – if you're happy with how your face looks but you're more concerned with neck wrinkles due to pillows, there's a good discussion about that here(see video below), from the people behind the Face Yoga series:
Which anti-wrinkle pillows would you like to try?
Personally, I'm fascinated by the JuveRest and the Womfy, and would love to try them out one day! Of all the pillows here, I think they would work the best for me. (I want to know if the Womfy will turn me, a longtime side-sleeper, into a back sleeper.) To be honest I'd also like to try the Anti-Wrinkle Beauty Pillow since the cutout for the arm looks very comfortable.
If you're using any of these pillows already, let me know in the comments. I'm sure our community here would love to find what pillows work best for eliminating wrinkles.