International travel tips: Preparation…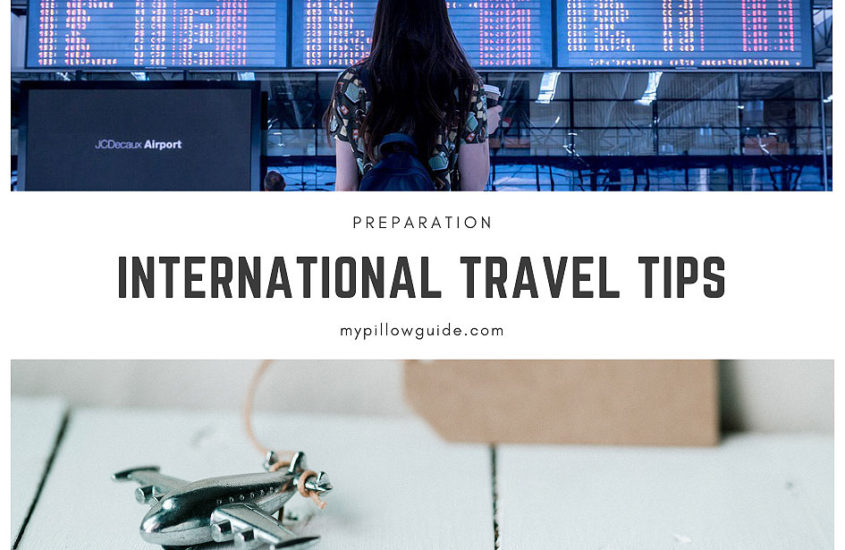 Nowadays, overseas flights are more accessible than ever. With so many airfare search sites competing to give us the best rates to even far-flung countries, traveling to our dream destinations has never been this easy.
Here's a secret for would-be globetrotters: very often, the cheaper the flight, the longer the travel. You can really save some of your hard-earned cash if you choose longer journeys with one or more stops, instead of flying one flight non-stop.
However, the longer the trip, the greater the ordeal. Meaning, the more you have to deal with fatigue, cramped flying conditions, queues, security checks, layovers, expensive airport food: i.e. no showers or beds for maybe up to 30 hours at a time. Possibly even longer.
But for those of you who are hardcore travelers, who have decided that seeing the world is one of your greatest joys, I have compiled a list of International travel tips and tricks to make your overseas flights a little or hopefully, a lot more comfortable. I've taken 9 overseas trips in the last 3 years, many of which lasted longer than 20 hours and touched down in 15 countries.
So you can say that I have become an amateur flyer with a lot of wisdom gained from my experiences, and I am more than happy to share with you, to make your flights a lot more enjoyable.
Ready for international travel tips? So here we go!
International travel tips: Top two terrific tips
There are many practical tips that I'll give you but the first, and I believe the most important one, has to do with your mindset.
Get into the right mind space for a long flight. A good mindset is essential. You do have to psych yourself up to realize that you will be in a very small space for anywhere between six to twelve hours, which is the definition of a long-haul flight. After a few hours, you may begin to feel a little compressed and even a tiny bit claustrophobic. Don't worry, this is normal. The best thing to do is to have the right mindset from the start. "I am embarking on a flight that will last for eight (or more) hours, and I will make the best of it." You may even want to schedule those hours – two hours for a movie, then a few hours for sleep, and then a book…breaking up that long flight into a manageable schedule can be a big help.
Get some good rest before you fly. Now, this may seem counter-intuitive. A lot of people think that if they stay up all night before a flight this will help them sleep well on the plane – I wish that were true, but many people have found the opposite to be true. Traveling can be very uncomfortable, and exhaustion plus discomfort does not equal rest.
Here's a nugget of truth: You want to relax. You want to get to the airport relaxed. You want to already be relaxed when you get on the plane, that way you'll have better chances of getting some sleep.
If your nerves are frazzled because you're tired, and you're already stressed when you get to the airport, you will not have a relaxing flight. Trust me.
Which brings us to before you fly, it's important to…
International travel tips: Plan ahead!
Get your flight dates straight. Check on the times of your flight carefully. Does the airline follow a 12 hour or 24-hour setting for their time schedules? I once nearly missed a flight to Europe from Asia because the flight I thought that was leaving at 1:00 pm was actually leaving at 1:00 in the morning! Good thing the boyfriend caught it, whew!
Try to relax the day before or the morning of a long flight. Go to the gym or do a yoga class. Eat a healthy breakfast (but nothing with beans or veggies that will make your tummy feel bloated).
Early means stress-free , so it's always better to get to the airport early. If you're flying near rush hour times, consider traffic and make allowances. Remember, holidays mean longer security checks and longer lines, too.
Take advantage of online check-in features and happily jump queues. I am always glad to breeze through check in when I've already done it online and printed out my boarding pass at home. Many airlines will let you check in 48 or 24 hours before your flight.
Seat selection is key. When you do your checking in online, why not avail of free seat selection? You can choose an aisle or window seat, at the front or back of the plane. Choice is power.
Use the bathroom before you get on the plane, and if you can wait, after you get off. Airport bathrooms are so much more spacious than tiny airplane lavatories, no kidding. Plus, towards the end of a flight, airplane toilets are known to get really dirty.
So, you're all set for your flight and you're now in your seat, waiting for take-off. But how can you make the next 8 (or more) hours more bearable?
International travel tips: Ways to reclaim comfort on your next flight
Wear comfortable clothes (nothing too tight or constricting because you will be seated for a very long time and you'll probably need to remove your belt at the security check anyway, so just put your belt in your carry-on.) But don't dress down too much – don't wear anything that you'd use to sleep in, right? Keep it simple, comfy but classy.
Layers are best for warmth, since planes can get cold, so bring a jacket and a poncho or scarf. Bring soft thick socks for walking around the plane too, and wear comfortable shoes because airports are huge and you will often have to walk from one end to another to catch connecting flights, lugging all your carry-on.
Bring your own travel pillow, since airplane pillows are often too flat to be comfortable. Especially for people who have pain in the neck or back, a good travel pillow is a life-saver! And because I travel so much I reviewed the best travel pillows available on the market.


Choose your seat well. According to this article on flight aggregator Skyscanner, 6A is the best seat on the plane. But I think it's up to each person's comfort. Personally, I prefer a seat at the back, as it often has more space to stretch out. And if you do end up with a seat you don't like so much, don't be afraid to ask one of the flight crew if there's an empty one you can move to.
Be nice to the flight crew. This will give you the confidence to ask for what you need at any time on the flight. And if you want a seat upgrade, there is no chance that the crew will give it to you if you are unpleasant toward them. Smile. Greet them good morning. Say please and thank you. Simple courtesy and good manners can go a long way!
If you are serious about getting a seat upgrade to business class or first class, Skyscanner tells us how to do it here. No harm in asking, right? If you never try, you'll never no. And even if they do say no, they might give you a free glass of champagne to soften the rejection.
If you are very tall, you may want to spend a little more for premium economy. The extra space and/or legroom will be worth it, especially on long flights. The website of the airline you're flying will show you how to avail of this.
Keep only what you need with you at your seat – anything else should be put away in the overhead bin. If you have too much stuff – bags, laptop, books, etc., these will need to be put under the seat in front of you, which means less legroom for you. And you do need all the space you can get.
Do things on the flight that cause you to relax. Personally, I can never watch or read anything serious when I fly, I need lighthearted movies (rom-coms are my to go) and summer beach reads (even when its minus degrees outside)! I think your first priority is to get as much rest as you can so that you arrive at your destination at your best.
Be willing to engage. There is nothing like a good conversation to make time whiz by. On my last flight from Europe, I met this lovely couple from England and we ended up talking for three hours, and it made the time go by very quickly.
International travel tips: Long flights video
Don't like reading, check out these guys: