Best Pillows for Reading in Bed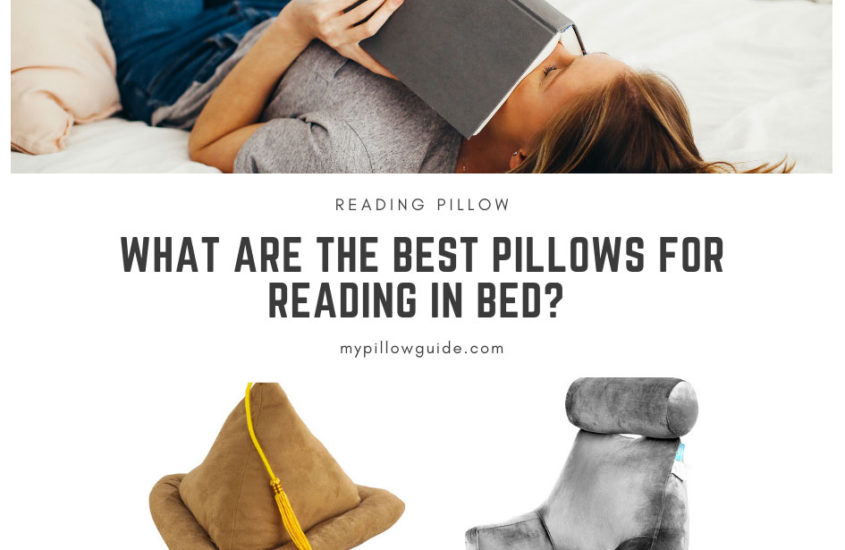 Hi everyone! I have returned with more pillow knowledge that I want to share with you all. So recently, I've gotten into the habit of working or even just doing some leisure reading, on my bed. I know used to be frowned upon by doctors, friends and especially parents because it supposedly hurts our back, it ruins our posture, it destroys our eyes (a common scare tactic by my mom when I was a child) and so on and so forth. Maybe a good pillow to help me read in bed would justify things?
Because somehow everything feels better in bed! Whether it's munching on a snack, indulging on some Jane Austen or being committed to meeting deadlines, in bed is where the magic happens. wink wink
Okay, let's say you don't want to attract unnecessary critters into your room by leaving a cookie crumb trail or you don't want to bring in work to your personal space, so that leaves reading in bed the least harmful of the three.
Either way, there must be a way to have some comfort and enjoyment without putting too much strain on our backs, necks, and overall health.
It was during an unexpected quick catching-up coffee with a friend that I was informed of "The Husband Pillow". Immediately I thought, "Okay I'm not in that stage of the relationship yet. Wait, is my boyfriend planning something I don't know? Was this a hint?"
After my dear friend saw the shock on my face, she graced me with an explanation. Husband pillows: the modern name for Reading Pillows or Bed Rest Pillows because years ago, laptops, tablets, and other portable devices didn't exist, so these pillows only had one job. Who knew!
Thus my search for the best pillows for reading in bed began.
Read on to find the best husbands! I mean, husband pillows!
Here are the best pillows I've found for reading in bed
The Husband Pillow
The Husband Pillow came to be because the pillow is supportive and it has arms that wrap around you. Just like a husband. Oh, did I mention that they're starting to be called "boyfriend pillows" since marriage isn't mainstream anymore. Will expound further later on.
If you have a husband pillow behind you, you can remain sitting up without having to lean against anything uncomfortable. It's basically a chair, with its back and armrests but not really a chair, since you're comfortably lounging on your bed.
The elderly or sick can even use these as it allows them to sit up without having to prop up the bed frame or by infants learning how to sit up.
The husband pillow is supportive, indeed.
Traditional Bed Rest Pillows
A reading pillow is usually a high padded backrest with arms. The support is there for your back and sides without being too bulky while you are sitting up.
Wedge Pillows
Triangular therapeutic pillows called wedge pillows are also used for reading in bed. These are definitely cheaper compared to husband pillows and can address issues like acid reflux and snoring.
Boyfriend Pillows
Okay, this might sound (and look) hilarious, but boyfriend pillows are basically half a husband pillow. In a way, it makes sense. Boyfriends, while invested, aren't expected to be as committed as husbands. The obligation to fully support is definitely on a husband's shoulders. Hence, a boyfriend pillow is shaped like half a man's chest with one arm. You can cuddle up to it and read on your side.
Pyramid Bookrest Pillow
Instead of going on your back or side, these pillows go on your lap and comfortably hold your book or tablet for a perfect reading angle. You get to rest your arms in the process.
Reading Pillows
These are usually interchanged with Bed Rest or Husband Pillows but are actually different. Reading Pillows are two layers of pillows with a normal pillow at the top and a stiffer one at the bottom to add support to the lower back when sitting up in bed.
The designs and features of pillows for reading in bed
Husband pillows come in many sizes. There are the big and stiff-looking ones, the soft-and-fluffy-like-a-teddy-bear ones and the normal-nothing-special ones. I realize that I sounded like I was describing actual husbands just then.
Reading pillows should be bought according to your body frame. They should be just the right size to accommodate you and support your back properly. The armrests should be comfortable enough because you will be staying in that reading position for long periods of time.
The immediate and obvious benefit of using a reading pillow is less strain on your back and neck leaving you able to sit up for longer periods of time without pain.
Click To Tweet
There are husband pillows that go a little extra. Aside from the myriad of colors and designs available, cup holders, reading lights, side pockets for remotes, books, magazines, and tablets were even added.
You can fold some designs so it can be stored safely under the bed or brought with you when you go out of the room and settle in another area of the house. Some even have a massager! I guess we won't be getting out of bed anytime soon.
Material
The common materials used inside a husband pillow are memory foam, polyester and other types of shredded foam. Make sure to get one that feels the best against your skin. After all, you will be spending a lot of time with the pillow.
Most reading pillows boast that they are easy to clean and hypoallergenic. If it has a removable cover, then you can throw that into the washing machine, otherwise, a warm damp cloth is usually enough to clean it up.
The Benefits of a Good Husband… Pillow
The immediate and obvious benefit of using a reading pillow is less strain on your back and neck leaving you able to sit up for longer periods of time without pain. Don't you just hate it when you forget to move while reading and suddenly change positions, which sparks a jolt of pain across your lower back and legs? Having a husband pillow supporting your back can eliminate that.
If you are specifically experiencing neck pain, fret not because I got your back (or neck?). Head on over to the following link to help you address that stressful problem.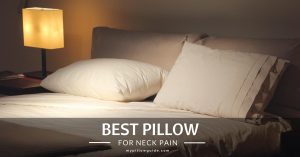 Now back to why husband pillows are good for everyone:
They reduce stress
If you haven't gotten into the habit of reading in bed before going to sleep because it's uncomfortable, then do buy a reading pillow then try it out. Studies have shown that reading before bed helps you to significantly relax leading to a good night's sleep. Believe it or not, reading before bed works better than listening to music, drinking tea or coffee or even taking a walk.
I love reading because it's an escape for me. I forget about my reality and enter another character's, which is usually more interesting than mine. There are so many times that I snap out of a book and look around my environment disoriented. It is this ability to forget our current troubles that helps our muscles to relax, slows our breathing and leaves us calmer. Less stress, better sleep.
Reduces risk for disease
Another benefit of reading is that it boosts your brain power. It's an excellent workout for your brain, which is a muscle too. Because of this, one is less likely to develop illnesses like Alzheimer's. No back pain from reading in uncomfortable positions plus better health as we grow older? Who doesn't want that!
---
The Chosen Three
After much deliberation, research and reviews, I have narrowed down my long list of "best reading pillows" to the top 3. My criteria for choosing are durability, maintenance, and design.
These do not come in any order so feel free to scroll through each one.
Features:
This pillow was definitely built for comfort and stability. Look how sturdy it looks!
It is bigger, fuller and taller compared to other reading pillows
It comes with a detachable neck roll
A neck roll that doubles as an under-knee support
Made with premium shredded memory foam that does not heat up too much and creates better support
It has built-in side pockets for your phone or remote and a large pocket at the back for books and magazines
This husband pillow is portable and easy to carry around with its built-in strap on top
The cover is removable for easy cleaning via washing machine
The cover can be replaced with a new one so you're not left with the same old color
Speaking of color, this pillow is offered in 12 different colors!
The foam inside its compartment is accessible. You can add/remove foam to better suit your needs.
It can stand on its own and does not slip on the bed or couch
Did I mention it comes with a three-year warranty? Well, it does. And based on my research, the company's customer support service was quick and friendly too!
Initial setup
The pillow comes without its cover, in a vacuum-sealed gray plastic bag. Upon opening, the chunks of foam must be separated either by opening the foam compartment or kneading and beating the pillow (why did that sound like I'm baking). Let it sit to rise for 24 hours (ok, I'm seriously baking something now). Once the pillow is fully fluffed up, attach the cover and enjoy!
Dimensions
The Husband Bed Rest Pillow measures 31″ overall with the neck roll. The neck roll adds an additional 7″ to the overall dimension of the pillow. The thickness of the pillow (back to front) is 13.5″. The total weight of the pillow with neck roll is 9.1 lbs.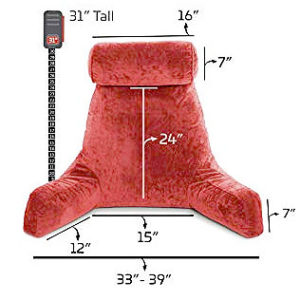 Cons
Let's talk downsides. Because of its bigger size, this particular pillow might not be comfortable for smaller body frames. Customers who purchased this pillow also commented on a strong smell after opening the pillow from its vacuum seal. It does disappear after a few days.
Conclusion
Overall, the Husband Bed Rest Pillow is a fan favorite. It does its job of providing comfort and support. For those who love extra-large pillows for snuggling into, then this would be the one for you as it is perhaps the only one available now at this size. In terms of durability, it does not wear and tear easily. Maintenance is a breeze with its removable covers. And I love the vast option of colors to choose from. This pillow gets an A+ from me!
Sale
Husband Pillow XXL Dark Grey Backrest with Arms - Adult Reading Pillow Shredded Memory Foam, Ultra-Comfy Removable Microplush Cover & Detachable Neck Roll, Unmatched Support Bed Rest Sit Up Pillow
PERFECT BACKREST PILLOW: Bigger and better than the rest! Far more than just an ordinary back pillow, the HUSBAND PILLOW serves as a sturdy and full-formed bed backrest that supports the entire upper body as no other pillow can. Just look at those generous dimensions!
ULTIMATE BED BACKREST: You will feel comfortable with this supreme support pillow that is filled with premium shredded memory foam and features a smooth highest quality microplush cover. The Husband Pillow creates the perfect back support in bed for sleeping, resting, lounging, reading and bedrest
BEST REST PILLOW AND BEYOND: Smile...knowing your money goes further, when you buy this ultra comfy support pillow that includes a detachable neck roll pillow on Bungee and a built-in side pocket to hold your remote, phone, etc. as well as an additional back pocket to hold your glasses, a book or magazine, the neck roll or removable covers, or anything else you want close at hand while in bed
VERSATILE AND PORTABLE: Features "adjustable loft". The zipper on the inner shell allows you to add or remove foam for individualized comfort, or shift the foam around in certain areas to achieve support just where you want it. We can even provide extra foam if more "oomph" is needed. What's more, the Husband Pillow is easy to take along with you anywhere you go, with its handy built-in handle at the top. It makes your hotel stay more comfortable, too, if you have a comfy back pillow to watch TV
MONEY-BACK GUARANTEE: The superior quality and workmanship of the Husband Pillow is backed by our 100-day, 100% money-back guarantee (for any reason) PLUS a 3-year warranty. This pillow is taller and wider than the leading backrest pillows available, measuring a generous 31 inches in height. In addition, we sell extra covers, should you ever want to change colors or replace the cover
---
Features:
This reading pillow can be used by kids and adults
It's available in XL size too
The cover is made from a velour material
Shredded foam can be found inside the pillow which allows for better airflow
It follows the shape of the person for more comfort
Arm construction is better than many pillows available on the market because they're attached separately
The whole pillow is double-stitched for increased durability
It has a handle for portability
If you are recovering from a surgery or other injuries, this pillow is for you
It's squishy but comfortable!
The Linenspa reading pillow also comes with a 3-year warranty
Initial setup
This pillow comes vacuum sealed and rolled up like a yoga mat. Open it up, shake it a bit and it will puff up after 24-48 hours. A user even advised tossing it into the dryer for a few minutes upon opening for faster inflation.
Dimensions
The height of this husband pillow is only 18 inches, with a width of 18 inches also and a depth of 8 inches. It's just the right size to fit a person's lower back body shape. For the XL size, it is 25x11x11 inches and weighs 5.3 pounds.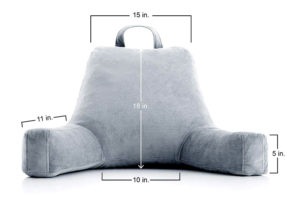 Cons
This particular pillow, in my opinion, has two downsides to it. One is that you can't remove the cover for a quick wash in the machine. Although based on reviews, the material is very easy to wipe clean. Another is that it only comes in two colors: blue and gray. You know me. I love the color!
Conclusion
Probably the best option for the regular sized reading pillows, this Linenspa accumulated a total of 2000+ reviews averaging 4 stars in Amazon. It's durable, not so expensive compared to other pillows, easy to clean and comfortable. Users boasted how it doesn't slip across the bed or sofa even though it's not so large in size.
Another commonly repeated comment was how pliable this pillow was. When you leave it, it goes back to its original shape quickly. Then when you lean on it, it's very pliable and conforms to your shape no matter what changes in the position you make. What's not to love with this pillow!
Sale
LINENSPA Shredded Foam Reading Pillow - Perfect for Relaxing, Gaming, Reading, or Watching TV - College Dorm Room Essentials
Extra-large size is great for teens and adults; perfect for gaming, reading, relaxing, watching TV, and working on a laptop
Filled with a CertiPUR-US certified shredded memory foam blend that can be molded for personalized and lasting comfort; 3-year warranty
Soft and durable velour cover is available in navy and stone colors that work well in any room; spot clean only
Superior back and shoulder support; convenient fabric carry handle
Arrives compressed and rolled in a box; shake and fluff, then allow up to 48 hours for full expansion
---
Features:
This wedge is a recliner that offers comfort in simple ways
It is firm and does not collapse under the body
It improves body posture and supports the upper back and shoulders
The wedge shape naturally relieves back and neck pain
This pillow also aids in breathing, snoring, and acid reflux issues
Aside from reading, this wedge can also be used for sleeping and actually promotes better sleep
The Cushy Form wedge prevents orthopedic health issues with the spine, neck, and shoulders
It's angled perfectly reclining and sleeping
It uses high-density memory foam which contours to body shape
The pillow has a breathable and machine washable cover which can be covered by your favorite pillowcase for added design
To ensure customer satisfaction, the wedge has a 100% money back guarantee
Initial setup
This pillow comes as is and there is no need for initial setup upon package opening.
Dimensions
The wedge comes in a size that is 25 x 24 x 12 inches. The 12 inches height is medically designed to reduce acid reflux, heartburn, snoring and GERD. The weight of this pillow is approximately 6.6 pounds.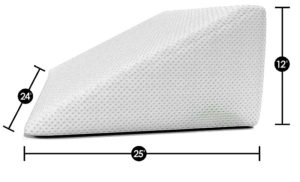 Cons
I probably miss the armrests that are lacking on this one. The pillow looks so clean and polished… wouldn't armrests be a good feature? But it would definitely destroy its functionality. Another thing lacking with this pillow is the fluff that makes a pillow a pillow. I guess there's no more cuddling with this one.
Conclusion
This wedge pillow may not be like the other pillows I've mentioned above but in terms of lasting benefits on the health, this one wins hands down. Not only can you use this for reading, but even for relaxing the muscles and sleeping.
Another feature I love about this pillow is that it also provides support to the upper back and shoulders. Quite versatile, isn't it? Also, there's a certain charm to its shape and simple design. Makes it look so medically professional.
When it comes to reviews, this pillow has provided comfort, quick recovery and better sleep for countless users. Athletes, pregnant women (more pillow knowledge for pregnant women here), seniors, children and working professionals alike benefited from this wedge pillow. That's a win for me!
Cushy Form Wedge Pillows for Sleeping - Triangle Memory Foam Bed Support Rest for Back, Shoulder & Neck Discomfort - Multipurpose Bed Pillow & Knee Pillow for Support
Supportive - Our wedge pillow can be used as a 30 or 60 degree elevation cushion to provide support wherever you need it most, while the high-density memory foam adds an extra layer of comfort.
Multipurpose - Elevate your body to the position you need it with this ultra-comfy bed wedge pillow. Whether it's your head, neck, back, or leg, this 30-degree angled support is there for you.
Snoring Aid - Trouble snoozing without some snores? This wedge pillow for sleeping elevates your upper body, encouraging snoring reduction and allowing you to sleep peacefully.
Simple Storage - When you're not sleeping, store this pillow wedge away with ease wherever you have room. The 30-degree design makes it easy to place anywhere.
Machine Washable - Don't lose sleep over complicated cleaning instructions. Just remove the zippered cover on this back pillow and throw it in the washing machine for a quick and easy clean.
---
Now I can't wait to get my own reading pillow for my bed!
I don't know about you, but after this long tribute to reading pillows, I am definitely clearing my schedule to get me one of these husbands, ahem, husband pillows. If I am going to continue working or reading in bed, then my normal pillows will simply not do.
I'm even considering getting one for my boyfriend so that we both can lounge on the bed for some comfort and relaxation. His pillow will be called a wifey pillow. Haha!
I want to take this time to encourage everyone who already owns reading pillows to please share your personal experiences with us. I'm sure we all would love to add more information and discoveries to our pillow knowledge.
To everyone who has come this far and actually finished this post that is longer than usual, believe me, it wasn't intentional, I'm just full of excitement with this new discovery called husband pillows!
See you guys soon only here at My Pillow Guide! Kisses!