The Best Lumbar Support for Car Seats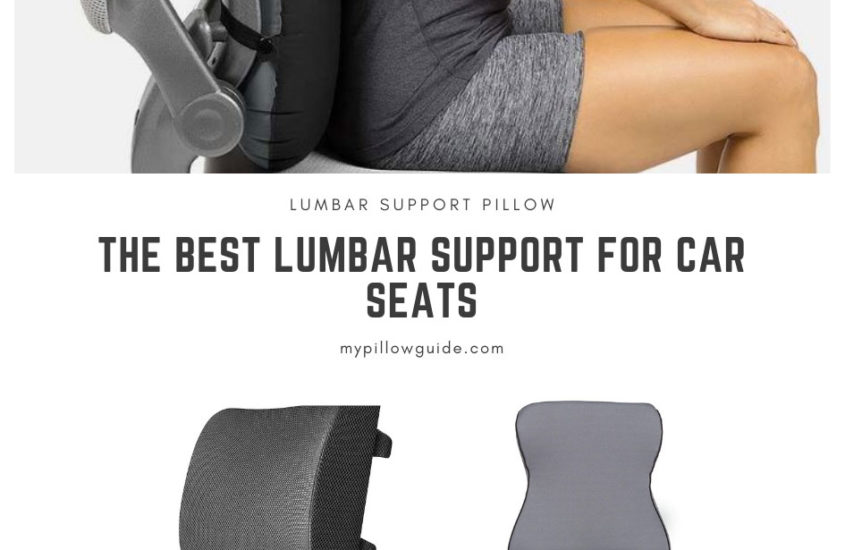 The other day, I spent about an hour on the road due to errands that couldn't be put off any longer. Guess what, when I hopped out of my car, I was stuck for a good 5 seconds in a bent position because standing straight placed a searing pain across my back. That never happened before and my eyes grew wide as I thought that age was catching up to me.
Or maybe it was just because, as humans, we spend a lot of time sitting down. We are seated when we eat, watch, work, drive and every other activity in between. Without proper support, imagine the strain we put on our backs. My car incident got me thinking, "There must be something I can buy to lessen the pain that I will surely get in the future."
It would seem like pillows are my holy grail for any pain that I feel in my body. Oh well, I still started my research anyways.
I'm sure there are many of you who, like me, would rather buy a comfortable pillow to address body pains, rather than giving my money away to chiropractors. Not only do they offer treatments that require you to go back regularly but they are pricey as well! So instead, we go to pillows. We've covered the best pregnancy pillows, pillows for neck pain and even baby pillows; today, we will be looking at lumbar pillows for seat support, specifically those that can be used in a car.
Get to know lumbar supports
The term "lumbar" relates to the lower part of the back, where the loins or the vertebrae between the thoracic vertebrae and sacrum are. In lieu of a scientific illustration, the lumbar region is the part of the lower spine area that bulges inwards above the tailbone.
Because the lumbar region is the part of the spine that curves inwards the most, it is easily prone to pressure thus causing lumbar pain or more commonly known as lower back pain. Prolonged periods of sitting down cause much stress on the lumbar region and we feel it through aches when we stretch or get up. It was for this reason that lumbar support pillows were invented.
Lumbar support pillows used to be available for office chairs only since it was the main source of lower back pain incidents. More and more, companies started looking for other niches that they could introduce lumbar support to and found another activity where we also sit down a lot for: driving. Today, there are numerous kinds of lumbar supports available that cater to your specific needs.
The main job of a lumbar support pillow is to provide comfort while maintaining proper posture so that there will be less pressure being placed on your lumbar region and thus, less pain.
How supportive are lumbar pillows?
If you have some free time, do try to take a look at the shape of your car seat. Most often than not, there is a hollow area at the lower part of the seat which illogically does not meet the inverted C our bodies make when seated. To compensate and to try and fit snugly into the car seat, we tend to slouch, which is a big no-no.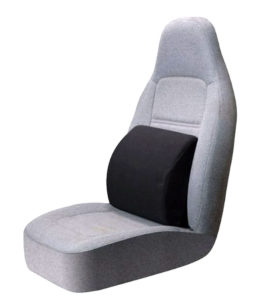 Enter auto lumbar pillows. The photo above is the general way a lumbar pillow is shaped and where it is supposed to go on the car seat. Support is maximized when you take your seat.
Auto lumbar pillows offer lower back support by being attached to your car seat to provide extra cushioning for a pleasant and comfortable ride.
Why lumbar pillows are the bomb
Lumbar pillows for cars are a great investment because they offer a lot of benefits.
1. Eases pain
First and foremost, lumbar pillows were created to give support. They help align your neck, back, and hips as you sit down. Without a lumbar pillow supporting your back, you will end up slouching or straining your back as you drive. It may not seem obvious at first, but long drives without any support will result to back pain.
Lumbar pillows relieve and reverse back pain because it realigns your spine as you sit which takes off the pressure and all the weight from your lower back and redistributes it evenly.
Click To Tweet
2. Increases comfortability
They're not too hard and not too fluffy, the best lumbar pillows are made just right to give you optimum comfort. Because let's face it, somehow car manufacturers just don't make the seats perfectly, which, in a way, is a smart choice because our backs and body frames are shaped differently and they must produce cars that can accommodate all clients.
3. Promotes good posture
We all know how difficult it is to constantly be implementing proper posture while sitting down. It is an activity that must be done consciously while the temptation to slouch is constantly there. When driving, you cannot allocate much attention to remembering to sit up straight. Lumbar pillows are there to help. They automatically push you to sit up properly and exercise proper posture.
With good posture comes less pain. Isn't that great!
4. Heightens health and safety
Less medical costs! No more trips to the doctor for lower back pain, or constant massage sessions which are both expensive.
Auto lumbar supports decrease fatigue levels which heightens concentration. Furthermore, it promotes better head motion that increases vision capabilities and easier breathing because of proper posture. All of this help ensure your safety as you drive.
5. Not heavy on the pocket
Good quality lumbar pillows for cars only cost around $20! You do not have to shell out a hundred bucks to get the benefits mentioned above.
6. Easy to use
These pillows are very easy to use and don't come with a long manual to study before setup. They can easily be installed onto your car seat with no fuss and confusion. Most lumbar supports come with a strap or buckle to be attached to the seat.
Choosing the right lumbar pillow for you
Lumbar pillows are available in many different angles in order to provide proper support for the issue and each one has its own unique features. There are some things to consider in making sure that you choose the right lumbar support for your car.
Things to consider:
Universal fit – A lumbar pillow that is made to fit all car seats is usually the best way to go for easy installation. If you find a lumbar pillow with specifications and includes car models, even better.
Contour design – There are lumbar pillows that are concave-shaped and curve inwards and there those that bulge out in a convex shape. They also come in different sizes, therefore it is advisable that you personally pick out the pillow that will cater to your needs.
Ventilation features – To avoid any heat build-up behind your back, get an auto lumbar support with good ventilation that improves airflow. This will increase comfort during use and long-term performance and durability.
Ergonomics– Probably the most important of all considerations are the features of the pillow that you are looking for in lumbar support. A good ergonomic fit will ensure that the pain or issues you are trying to address will be fixed.
My top 3 picks
Now that we know what lumbar support pillows are and what they can do, I've gone on ahead and made extensive research on picking out the best lumbar pillows available in the market. To further enhance my decision-making on which pillows should make my list, I also looked at the reviews. Real people giving their actual experiences with lumbar support is a great way of assessing the functionality of the product. I've included two reviews for each pillow.
Presenting, my top 3 picks:
---
Named after the largest castle in the world located in Poland, the Bulwark Knight Back Cushion is here to make you feel like royalty as you sit on your throne.
Features:
It uses deluxe, 70D medium density memory foam that never forgets to give you optimum back support
The Bulwark has an adjustable and extendable strap that gives a secure fit on any seat
Yes, it can be used in other things other than a car seat. Take it with you at home, an office chair or even while traveling
It comes with a drawstring bag for storage and travel purposes
The cover is, thankfully, removable and machine washable
The lumbar support promotes proper back and spine posture
It also removes and relieves unnecessary pressure on the tailbone
The foam is made of nontoxic and safe materials
Did I mention it passed an 80,000-compression test? That is some durable stuff
If the Knight Back Cushion is too big for you, they also have the Squire size which is smaller and has an orthopedic wave shape
Both pillows come in black or grey for more variety
Dimensions:
The Knight – 15 x 4.8 x 17.8 inches in size and weighs 2.15 pounds
The Squire – 17 x 4.2 x 12 inches in size and weighs 1.85 pounds
The reviews:
"I drove from Atlanta to Jersey City, my back felt like it never took such a long ride. I sit around the house with it.
Really like it" – Amazon customer.
Can you imagine? That 859-mile drive seemed like nothing for the satisfied Amazon customer. If you think this pillow is the one for you, click this link for more information on the Bulwark lumbar support pillow.
"I have a bad back and needed a pillow for support. I've tried a few cheaper ones and they just didn't help. I decided to spend a little more money and buy the Bulwark firm memory pillow. This pillow is fantastic. I use it in my car, when I go to a restaurant with those uncomfortable chairs, etc. it comes with a bag and drawstring so you can carry it easily anywhere. I love this back support pillow and recommend it highly. It's a perfect size. Not too thick or thin. The gel inside molds to your lower back. It's so comfortable" – Randi
Customer Randi absolutely loves his Bulwark pillow. He uses it everywhere! Uncomfortable chairs are not a nightmare anymore for those with bad backs, thanks to this lumbar support. He finds the drawstring bag convenient as well, making the pillow a good companion on his errands. Want to feel as good as Randi? Head on over to Amazon for more details.
---
Next up is a simple-looking lumbar support pillow that is concave-shaped.
Features:
Made with 100% premium quality memory foam, this pillow will keep giving you comfort according to the shape of your back for a long period of time
It relieves acute and chronic pain that occurs at the back and alleviates muscle aches
Aside from the common pain, this pillow also addresses arthritis, stenosis, herniated disks, and sore backs
The contour structure allows for complete back support and can be placed anywhere from the neck all the way to the lower back area for pain relief. (More info on neck pillows here)
Realigns the spine and promotes proper posture while seated in the car
Ideal for gamers, truck drivers and elderly men and women
This pillow has dual adjustable straps to keep the pillow in place without slipping down the seat
Made with a mesh cover that is breathable and hypoallergenic
The anti-sweat absorbent fabric of the cover keeps the back area cool and dry
Removable and washable cover
The Everlasting lumbar support pillow comes with a lifetime replacement guarantee meaning this company has got your back, in all aspects
Dimensions:
13.4 x 4.1 x 12.6 inches in size and weighs 1.6 ounces
The reviews:
Everlasting's lumbar support is therapist-approved! This particular brand has excelled above others, from the memory foam to the double straps and removable cover. The therapist who gave the review now feels good after long commutes instead of aches and pains. Look here for more on the reasonably-priced, must-have, comfortable lumbar support by Everlasting.
"I'm a therapist and have tried several lumbar supports over the last few years. This one exceeds on multiple levels. First, the memory foam is of high quality. It's soft and nicely conforms to the natural curves in one's spine. It comfortably supports the back without being too thick. The double straps help hold it securely in place. And I love the fact that the cover can be removed and easily cleaned. I'm currently using it in my car as I often make long commutes and this has made all the difference from feeling achy after a drive to feeling good! If you're looking for a reasonably priced, effective and comfortable lumbar support. This is it" – 2Travel
Want to know how effective Everlasting's lumbar support pillow is? According to the joyfully retired customer below, back pains were immediately eliminated! The reviews on the product were all praise and amazement. Specifically used on a Subaru Outback, we now know that fits mid-sized SUVs. If you want to make your purchase now, let me redirect you here.
"This turned out to be exactly what I needed and I love it! I have a Subaru Outback, and this has immediately eliminated the back pain I'd been experiencing every time I made even a short drive around town (I'm 5 foot 4 inches tall and pretty tubby). Having two straps is great and they are amply long enough to slip over the headrest and behind the seat. I haven't even had to secure the straps–I just scrunch the pillow to what's most comfortable when I get in and off I go. Bravo!!! (I measured, and one of the straps is 39 inches and the other is 35 inches; they are also elastic, so they should fit well around even pretty big seats.) The pillow also has a zipper, so you should be able to wash the cover if necessary." – Joyfully Retired
Everlasting Comfort Lumbar Support for Office Chair - 100% Pure Memory Foam Lumbar Pillow for Car (Black)
BACK SUPPORT FOR OFFICE CHAIR - Our 100% pure memory foam chair back support cushion and is made of the exact same material as the world's leading memory foam products.
LUMBAR SUPPORT FOR CAR - Due to our universal contoured structure, our back support cushions can be placed anywhere along the back of a car seat or office chair for neck, upper, middle, thoracic, lower back and spine pain relief.
DUAL ADJUSTABLE STRAPS - Most low quality lumbar pillows only have 1 flimsy strap which does not hold the cushion in place. Our lumbar cushion has dual adjustable straps can be secured tightly to the back of the seat.
LIFETIME REPLACEMENT GUARANTEE - If anything goes wrong with your lumbar support pillow, we've got your back...literally!
HYPOALLERGENIC, BREATHABLE 3D MESH COVER - Allows airflow through the cushion to keep your back cool and dry for the best experience. Our back rest for office chair can also be used on the couch, wheelchair, auto vehicle, office chair, or airplane.
---
It may look like a spaceship pod, and rightfully so because this next lumbar support will give you an out-of-this-world driving experience.
Features:
Another lumbar support made with only the best memory foam for enhanced comfort
The design of this pillow is larger than the rest and extends to the upper back area for ease of use
Its universal contoured shape fits all
Comes with an adjustable strap and another extension strap for larger seats
This lumbar support is orthopedic-approved and relieves pressure while driving
Developed with chiropractors, the pillow was designed to provide optimum comfort and protection for the back
The product can be used by pregnant women to give extra support while sitting down (In case you are pregnant and looking for some pregnancy pillows, you can save the following link on the best pregnancy pillows in the world for later)
It prevents muscle fatigue and tightness in the back area
Its removable and machine washable cover is made with mesh cloth and soft velvet that is breathable and doesn't heat up
In case you aren't satisfied with the product, it can be returned within 1 year since the purchase date and a replacement or refund will be given
Dimensions:
17.7 x 15.4 x 4.3 inches and weighs 0.9 lbs
The reviews:
Ms. Julie Russell below is always on the road for her profession and relieves her back pains with Bokemar's lumbar support. She even gave a pros list of the product. If you are convinced that your car needs this as soon as possible, click the following link which will redirect you to Amazon.
"I use this in my car because I'm a delivery driver. I'm in the car for hours at a time. I was having lower/middle back pain. Since using this product, the pain is much better.
Pros:
Comfortable/memory foam
Good fit for my car seat
Straps keep it in place
Removable material so you can wash
I'm happy with it. Would buy again" – Julie Russell
If you are like Paul West, the next reviewer, and you experience chronic back and hip pain, then Bokemar lumbar support might be your miracle in a pillow. Dreading being seated for long periods of time or sitting on uncomfortable seats because of the pain? Alleviate all anxiety and click the following link for more information and reviews on this product.
"I have chronic lower back/hip pain, to the point where it's painful just to sit down. This puts my back in a position where the pain is almost totally alleviated. No regrets on this purchase"
– Paul West.
Sale
Lumbar Support Pillow Back Cushion Comfort 100% Pure Memory Foam Lumbar Support for Office Chair - Lumbar Support Pillow with Adjustable Straps for Car, Office Chair and Wheelchair
WHY THIS BACK CUSHION IS UNIQUE - After several years of sitting at work and driving in our cars with back discomfort and lumbar pain and after trying many solutions including small pillows, we decided to create the best ergonomic orthopedic full back support pillow to obtain perfect alignment with the lower as well as the upper thoracic area of the spine; we developed with chiropractors what we believe provides the ultimate comfort and protection for your back, the Posture Protector
WIDE RANGE APPLICATION - Our universal contoured structure, With adjustable & flexible strap and 1 extra extension strap ,our back support cushions can be placed anywhere along the back of a chair for neck, upper, middle, thoracic, or lower back and spine pain relief. Use this backrest as a posture corrector to help with alignment and relieve pressure while driving your car or sitting on your office chair at work. Ideal for a gamer, truck driver, elderly men or women
ERGONOMIC DESIGN SPECIFICALLY TARGETS BACK PAIN - High Density memory foam back pillows with 17.7 inches perfect streamline which feature Supportive and Comfortable designed for absorbing the pressure on backbone caused when auto starts and brakes, muscle tension from sitting.Great support throughout your lumbar section
100% PREMIUM QUALITY MEMORY FOAM LUMBAR PILLOW: with breathable mesh cloth and soft velvet cover, this back support pillow can keep back air circulating well . And cover is removable and machine-washable for easy cleaning
LIFETIME REPLACEMENT GUARANTEE: Unlike a lot of lumbar cushions that use gel, layers, and other ineffective budget materials, memory foam seat cushions use thick, high density memory foam that can keep its shape, feel soft and comfortable. 12 MONTH quality WARRANTY, 30 days "No questions asked" money back guarantee!
---
Final thoughts
Sad to say, but because we spend too much time sitting down, we are all the more prone to aches and pains. Although, it doesn't mean that we must remain as slaves to the sharp pain, temporary immobility and groaning while standing up caused by staying seated for long periods of time.
I personally consider the perfectly designed, soft yet sturdy, comfort-giving inventions called pillows to be heaven-sent. And now, we can have a little piece of heaven while we go for a drive.
Hope to see you all again here at My Pillow Guide!
---