Knee pillows: Complete Guide and Top Picks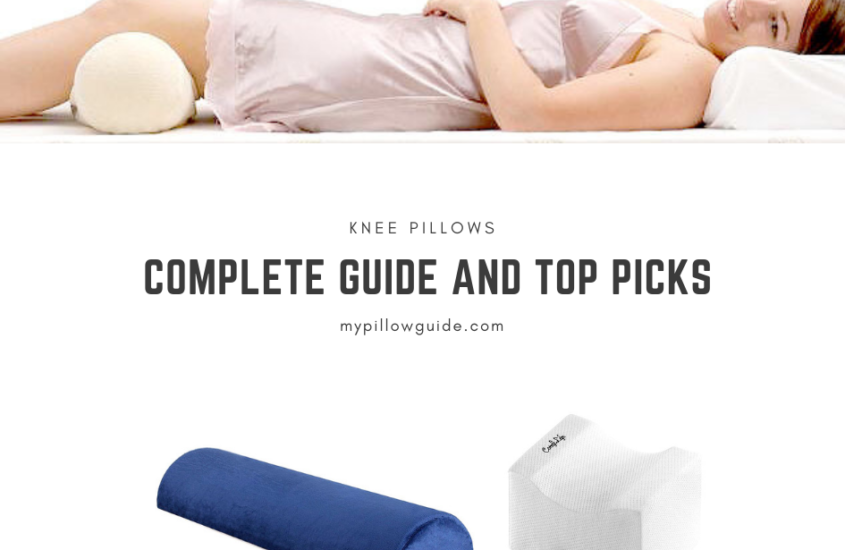 Let me start this post with a recent story.
It was one morning when my boyfriend suddenly woke up and was limping from knee pain and we both made the same remark "You're/I'm getting old". But he's not even 40 yet! Joking aside, I was intrigued as to why he could be having knee pain when he is a relatively active guy who is living a healthy lifestyle. I started doing research, and since pillows are my life, my brain and search tabs started connecting knees to pillows.
Hello everyone! It's knees and pillows time!
It was during my research that I discovered a whole new world of knee pillows.
While its common knowledge that sleeping or sitting on the bed with a pillow in between or under the knees is ideal, I always assumed that I can just use any sleeping pillow and I'm good to go. Boy, was I mistaken?
Knee pillows were created to improve the comfort of the legs and knees. Whether it's used for sleeping or lounging on the bed, the goal is proper blood circulation leading to a pleasurable sleep or rest.
Sleeping and knee pillows
First, let's focus on the relationship between sleeping and knee pillows. The ideal sleeping position is on the side facing left as it stimulates proper blood and digestive circulation. Even though this position is the most used and recommended, it is still not void of complications such as hips and spine misalignment.
When back, hip or knee pains are present due to improper sleeping positions, even a great memory foam mattress is not enough to fix the problem. The happy solution to this dilemma is knee pillows.
Click To Tweet
Knee pillows not only further enhance blood circulation across the body, but they also ensure that our posture is correct while we sleep. Using a knee pillow relaxes our nerves and muscles, thus leading to a more restful sleep.
Lounging and knee pillows
Knee pillows are also a great accessory to have while relaxing in bed. For this, it would be best to use a wedge-shaped or body pillow. Sit up, put the pillow under your knees, grab a book and you're good to go. Using a knee pillow on this occasion ensures proper blood circulation because let's face it when we're too engrossed in a book, we forget to change positions or even move! Wanna up your lounging game? Add a husband/reading pillow to your arsenal and you will have achieved the top level of relaxing in bed.
Types of knee pillows
Have you ever seen swimmers during training with a pull-buoy in between their legs? That's what a typical knee pillow looks like. It is perfectly contoured to fit in between the knees. Furthermore, it is meant to be as discreet as possible so the average weight of knee pillows is half a kilo or less.
The common shapes of knee pillows come in are: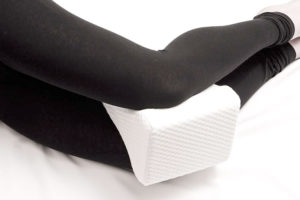 Hourglass: the most common among the shapes, an hourglass knee pillow is contoured to the natural curve of our knees and legs, which adds comfort and ease of use. This type of knee pillow is best used for side sleepers because it prevents the legs from touching each other. Personally, I hate it when the bones at the side of my knees hit and rub against each other. Using a knee pillow creates a cushioned barrier that keeps the legs apart plus it moves with you as you change from side to side, keeping the hips perfectly aligned.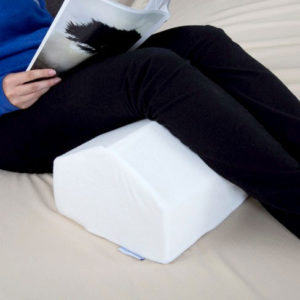 Wedge: these pillows come in a triangular or half-moon shape and are suited for back sleepers to be placed under the knees for added comfort. Many find sleeping with a wedge-shaped knee pillow below both knees very relaxing. With the lower body elevated, there is better alignment and improved blood circulation in the legs.
I've actually stood in front of a mirror and studied our natural shape. It makes sense for back sleepers to elevate their legs because there is something called our buttocks that hinders alignment when we lay on our backs. Without a pillow under our legs, our lower bodies experience more strain by being stretched out thus causing leg and lower back pains.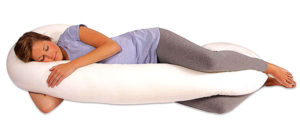 Body: body pillows are caterpillar pillows. They are wide and long, usually the same height as an adult. Body pillows can be folded and bent to go in between the legs, back or sides, depending on preference. Even though this is not usually meant to be used solely for the knees, a lot of people actually rely on body pillows for this purpose.
Material/Filling
Knee pillows are typically made from shredded or one whole piece of memory foam or polyfoam. Their covers are made from cotton or synthetic fibers such as polyester and/or rayon. Knee pillows aren't made to be soft and cuddly because they are meant for support, so they should have medium-firm to a firm consistency.
Tips for choosing the Knee Pillow for you!
Choosing the best pillow comes down to preference, body type, level of activity, current health issues (if any), budget and other factors.
In no particular order, let's start with pillow budget. The majority of knee pillows today are priced at $30 or less with some specialty models being a bit more expensive. Knee pillows are relatively cheap therefore our main concerns should be more focused on quality and comfort.
The thickness of a knee pillow you will be purchasing is relevant to your weight. Generally, heavier people should get thicker knee pillows while more petite body frames prefer thinner ones.
As I've mentioned earlier, your preferred sleeping position greatly affects which type of knee pillow would be most suitable for you:
Hourglass shaped knee pillows for side sleepers and wedge-shaped ones for back sleepers. For stomach sleepers (yes, it is a thing), body pillows are usually picked because it is the most comfortable one to use for that position.
Are you a hot sleeper? Most pillows sold today are made of memory foam which naturally absorbs more body heat. This may be an issue for people who feel hot while they sleep. Try to avoid thick covers made of synthetic fibers that tend to heat up and go for cotton material if you sleep hot.
If you're a kicker when you sleep then there are knee pillows with stretchable straps to wrap around your legs so that they stay attached when you move around at night.
For those who want to make sure that a knee pillow is what they need, some pillows offer sleep trials. You can test the product for a limited time and it can be returned if it doesn't meet your requirements. Others also offer a satisfaction guarantee so you can return your pillow anytime and get a refund.
Warranties are another thing to look out for when choosing a pillow. If a pillow comes with a 100% satisfaction guarantee, it usually cancels out the warranty. Otherwise, most pillows are covered for its entire lifespan.
The benefits of using a knee pillow
A good night's sleep. Pillows are heaven-sent inventions that were meant to make our sleep so much better. As humans, sleeping and resting are our ways to recharge, much like plugging an electronic device to its charger and socket.
Pain, pain go away. Have you ever sat in one position with the wrong posture and felt your muscles cramping and shouting when you stood up? The same applies to sleep with bad posture. It is much worse in this case because we don't have conscious knowledge that we are sleeping in a position that will cause multiple pains when we wake up.
Having a pillow in between the knees is a quick, affordable and easy way to avoid back and leg pains. As I've mentioned earlier, using a knee pillow aligns the legs into their ideal positions, thus avoiding any negative effects.
Spine and joint health. For side sleepers, a firm knee pillow also prevents the upper leg from pulling the spine out of alignment.
Imagine sleeping on your side with your upper leg putting a lot of weight on your lower leg, or sleeping on your back with your legs outstretched, do you share the stress your lower leg or back leg areas feel? Sleeping without a pillow in between or under the knees causes the joints and muscles to tighten or overstretch which are not healthy choices to make.
---
My top three picks
I've done my research, I've read countless reviews, I've pestered my friends if they have knee pillows and asked what it was like, and I was able to narrow down my long list (yes, for something so simple, there was surprisingly a lot to choose from) to the top three.
Can I have a drum-roll, please…
With over 4 thousand reviews in Amazon and a rating of 4.5 stars, this pillow is the holy grail of knee pillows.
Let's talk features:
This pillow is ergonomically designed to be a perfect fit in between your legs
It provides ideal spine alignment
Reduces back, hip, knee and joint pain
Gives comfort during rest or sleep for post-surgery scenarios
Gives you a good night's sleep
This pillow is pregnant women-friendly (shameless plug: more pillow talk on pregnancy pillows here)
ComfiLife's pillow is made from premium high-density memory foam that won't go flat even with continued use
It comes with a breathable cover that is easy to clean and does not get warm even if it is surrounded by body heat
The pillow has a 100% money back guarantee for unsatisfied customers
Unsatisfied customers have commented excellent after sales customer service
Product dimensions: 9.8 x 7.9 x 6.3 inches in size and 0.5 lbs in weight
For those with hip issues, even those that have recently gotten hip replacement surgery, swear by the effectivity of this product. Those with difficulty in sleeping have found great relief through this pillow. The knee pillow is not too bulky, so rolling over to the other side with something in between your legs is not an awkward feat.
Prepare for some separation anxiety when the pillow leaves your knees in the middle of the night because continued use will make your body heavily dependent on it; much like a kid and his comfort blanky or teddy. Once your body knows the benefits this pillow has, it will automatically add it in its list of "things it cannot sleep without".
The only regret people have about this pillow is not making the purchase sooner.
ComfiLife Orthopedic Knee Pillow for Sciatica Relief, Back Pain, Leg Pain, Pregnancy, Hip and Joint Pain - Memory Foam Wedge Contour
SCIATICA, BACK & HIP PAIN RELIEF AT NIGHT: Ergonomically designed knee pillow fits comfortably between your knees and provides maximum support and comfort at night that helps relieve sciatica pain and pressure on the lower back. ComfiLife knee pillow is designed to help relieve back pain at night however it may not work for all conditions or completely eliminate all symptoms or pain. It may take a few days for your body to get adjusted to using a knee pillow at night and see results
PREMIUM HIGH-DENSITY MEMORY FOAM: Made with 100% premium quality durable cut memory foam to provide long lasting comfort for hours, superior to other pillows it won't go flat over time
ERGONOMIC DESIGN: Ergonomic contoured design keeps your legs, hip and spine in ideal alignment while sleeping and improves circulation. Product Dimensions: 9.8 x 7.9 x 6.3 inches
BREATHABLE EASY CLEAN COVER: Breathable zippered cover ensures the pillow does not get warm and is machine washable for easy cleaning
FULLY GUARANTEED: Customer satisfaction is our top priority, money back guarantee if you are not 100% satisfied, no questions asked!
---
Next up is a hot-dog pillow. I don't know about you, but growing up, I loved my sausage roll. To the point that my mom would have to pull it away from me to get it cleaned because of the musty smell it was developing. Turns out, this type of pillow would turn up again into my life even as an adult.
Features:
The pillow that was ergonomically designed for back sleepers
Keeps the legs, hips, and spine in an ideal position while sleeping
This pillow improves circulation and alleviates neck, back and knee pain
Made from 100% visco-elastic density memory foam (visco-elastic foam was developed by NASA to be used by astronauts)
It is multi-functional: can be used as a back support while lounging, a neck pillow, or knee support pillow
Has a removable cover with an invisible zipper for quick removal and cleaning
For those who are on-the-go, this pillow can fold up and is travel-friendly
This semi-roll pillow comes with a 100% satisfaction guarantee
Product Dimensions: 9 x 4 x 4 inches in size and 1.17 lbs. in weight
Who doesn't love a multipurpose product? People have used this in other locations such as the car, couch or an office chair. The lumbar pillow gave much-needed support in any location. As it works so well in many positions, you might have to purchase a few so that one can go under the neck, the knee, and ankles.
Side sleepers have also found comfort using this pillow. They hug it while sleeping and it helps in hip and spine alignment. Stomach sleepers, usually the hardest to please when it comes to supporting pillows, have also praised this knee pillow.
Sale
Cozy Hut Memory Foam Semi Roll Pillow Half Moon Bolster Knee Support Pillow for Side, Back, Stomach Sleepers for Sciatica Relief, Back Pain, Leg Pain with Washable Cover - 24''L X 8''W X 4''H
Premium Memory Foam- Inner material is grade memory foam which can retain its shape for continued support, never go flat, no more tossing, offers the right balance of support and comfort.
Super Soft Velour Cover- The cover is so soft that easily take you to sweet dreams. Outer cover is machine washable, so easy clean cover, also the durable cover provides breathability and moisture wicking properties and on the memory foam there is an white inner cover which increases comfort and absorption ability.
VERSATILE FOR ANY SITUATION- Backpacking, camping and travel, compressible pillow for hiking, motorcycle trips, airplanes and lumbar support by instant camp, Whether you're leisurely vacationing with your family, camping for the weekend, or backpacking the mountains, this is the best travel pillow!
CONVENIENCE- The camping pillow dimension is 16.5L*7.8W*5.1H in. Folds effortlessly back into its storage bag, package size is 8.3*5.5inches, making it convenient and easy to travel with. The ability to compact in seconds makes it truly the ideal resource for people on the way. Also it can be used as lumbar pillow with firm back support on the office chair, car seat chair or plane seat chair.
Bring You To Sweet Dreams- Improved ergonomic design makes you sleep like on the cotton candy , premium memory foam offers cozy comfort and support for a better night's sleep. Great for STOMACH, BACK and SIDE SLEEPERS, better neck support so you can get a good sleep!
---
It would seem that I cannot get enough of the pull-buoy shaped knee pillows. I've picked another best seller with a few more perks. The following pillow has also garnered almost 900 reviews on Amazon with a 4.5-star rating.
Features:
This knee pillow is best used for sciatica relief, back, leg, hip, and joint pain
It can be used in multiple positions such as the lower legs, ankles and lower back, all of which help to improve blood circulation
Uses premium quality memory foam
It is orthopedic doctor approved
The pillow is also pregnancy-friendly
For those who are restless sleepers, it comes with a removable and adjustable strap so you can sleep assured that the pillow will not run off
Comes with a machine washable, breathable cover
The pillow is heat and weight responsive, meaning it doesn't overheat and stays firm
This pillow has a lifetime replacement guarantee so if anything happens to the pillow, or you are not satisfied, feel free to return or get a replacement
Expect a bonus of 2 pairs of premium quality memory foam earplugs that boasts of a Noise Reduction Rating (NRR) of 33.
Product Dimensions: 10.5 x 6 x 8 inches in size and 1.4 lbs. in weight.
This pillow might be bulkier compared to its counterpart mentioned earlier but it works even better for bigger body frames. Converted users also commented that the size is perfect in stopping both legs from hitting each other when sleeping.
It would be important to note that a common review about this product is that it doesn't come with a smell that is usually attributed to memory foam. For those of you who have a nose with canine keenness (no offense because I am equally as picky when it comes to scents), this is the knee pillow for you.
To comment on its orthopedic validity, this pillow is for real. Those with arthritis, bursitis, joint, and sciatic nerve pain have discovered much relief as early as two weeks of using the pillow.
Sale
Everlasting Comfort 100% Pure Memory Foam Knee Pillow with Adjustable and Removable Strap - Ear Plugs Included - Leg Pillow for Sleeping
100% PURE MEMORY FOAM – Our memory foam cushion is 100% pure with no additives and is made from the exact same material as the world's best memory foam manufacturers.
ERGONOMIC CURVED DESIGN – The orthopedic contour keeps your knees separated with ideal spacing and support to align your legs, hips and spine. Relief and treatment for knee, hip, leg and thigh area, pelvis, lower back, lumbar and spine, arthritis, bursitis, joint & sciatic nerve pain aka sciatica. Perfect for side sleepers and use during pregnancy.
REMOVABLE STRAP – Our knee pillows are equipped with a removable and adjustable hook-and-loop strap that keeps the knee pillow in perfect alignment between your legs when you roll over while sleeping. No more hassles with readjusting the knee pillow in bed, giving you an undisturbed night's rest!
FREE BONUS: MEMORY FOAM EARPLUGS –Comes with 2 pairs of premium quality memory foam ear plugs with an industry leading NRR (Noise Reduction Rating) of 33, packed conveniently into a travel case
LIFETIME REPLACEMENT GUARANTEE –Your knee pillow is protected under our lifetime warranty and if anything happens we will send you a new one at absolutely no cost! You can sleep well from night til morning knowing you can rely on the help of Everlasting Comfort.
---
Final thoughts
My final thought at the moment is that I'm getting scared that my house will one day become full of pillows! I am usually not the type to be swayed by advertisements, over-zealous sales agents or home shopping network products, but…it might be time for a change, what do you think?
Rest assured that after this long post, you will not be hearing of any more stories about my hubby-to-be experiencing not-so-much-age-related body pains because I am ordering one (or if you know me well, two) online immediately.
Want to address two birds with one pillow? Then add a neck pillow with your knee pillow. It just so happens that I've also done my research for that. After all, who doesn't want a blissful sleep with no pains and aches come morning?
Ta-ta for now, my pillow friends! Happy holidays everyone—wishing you and your loved ones and friends the greatest joys of the season.
Hope to see you all soon here at My Pillow Guide!