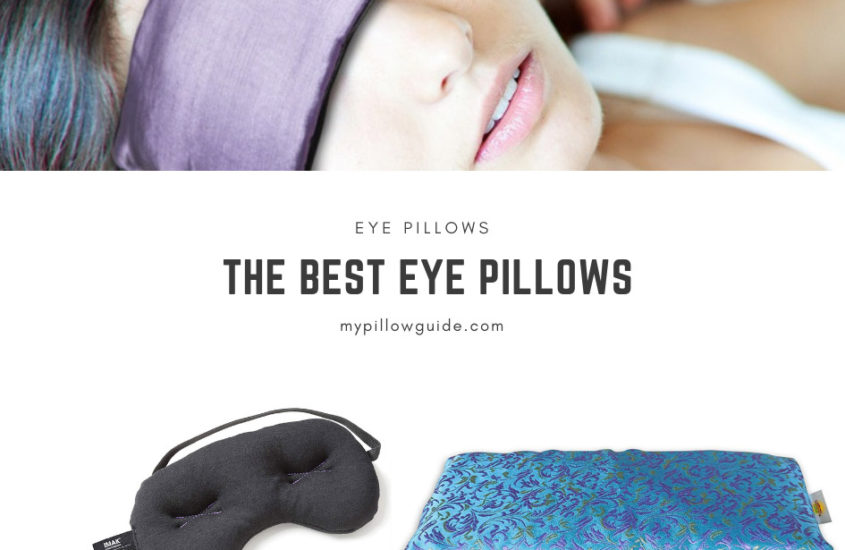 Hi ladies! It's me again, and I'm back with more of my pillow adventures.
I have a confession to make. I am not a normal sleeper. It all started one night when my boyfriend woke me up close to midnight because he was scared that something was wrong with me. I asked him why and he replied with, "Your eyes! They were half open. You looked dead!" This happened early on in the relationship when we were new to staying over at each other's place. Before that, I never knew that I had sleep quirks.
It turns out that this is a medical condition called nocturnal lagophthalmos and it's a form of facial paralysis caused by several things like infection, stroke, trauma, Bell's Palsy or surgery. So I am one of the 20% of the world's population with this condition. Severe cases of nocturnal lagophthalmos experience eye irritation, drying, and itching. While it cannot be treated to correct it, those who develop these symptoms usually have to apply artificial tear eye drops several times per day and some ointment before bed.
To prevent the eye from opening during the night, medical grade hypoallergenic tape is stuck onto the eyelid to keep them closed. Would you believe me if I said that those who have a terrible case of this condition get a gold weight implanted inside the eyelid to keep them closed? Gold is an element that is compatible with the body, and from there, they let gravity do its thing to reach a full blink.
Luckily, I never really experienced much discomfort in the morning after sleeping with my eyes half open during the night except when I travel and sleep in different temperatures and climate. If I am not at home, I am dependent on my eye mask because my eyes get so irritated the next morning.
If you know me well, then you would expect me to start searching for a pillow remedy by now. I think I have established the following motto of "all problems can be solved with a pillow."
Amazingly, there is a way to address this sleeping condition. Eye pillows! They do exist! Aside from making sure your eyes are shut, and no bacteria can sneak in while you rest, these pillows provide so much relief and relaxation.
And, truth be told, it's not just folks like me who need or want eye pillows. Some people just feel more comfortable sleeping with a slight weight on their eyes. Maybe it's a slight sensory issue, maybe it's a quirk…who knows for sure? The important thing is that eye pillows are available for those who need them.
Introduction to eye pillows
Eye pillows are one of the simplest measures in treating sleeplessness. Bo Forbes, a clinical psychologist and yoga therapist, explained that eye pillows are one of the most powerful tools for healing, health, and happiness. These pillows balance our nervous system by applying light pressure on the eyeballs, which lowers the heart rate. We will get into the nitty-gritty of the scientific benefits of these inventions later on.
Eye pillows are usually all the same shape, a bigger and heavier version of eye masks.
They are also equipped with different scents and aroma to induce sleep and relieve stress, such as lavender. These pillows are usually made of silk or other soft materials and filled flax seeds, beads or gel beads which add the right amount of weight and pressure on the eyes to lower the heart rate.
When to use eye pillows
Believe it or not, eye pillows aren't just used for sleep, although this is their primary function.
Putting an eye pillow over your eyes or even your forehead as you lay down in bed will help you fall asleep faster and reach deep sleep throughout the night.
Click To Tweet
Many avid eye pillow users also bring the product to their yoga practice and put it on during savasana (the corpse pose at the end of a session) for ultimate relaxation. You can also use the pillow during restorative yoga practice to deepen "embodiment".
If you are feeling anxious, stressed, or depressed, eye pillows can be your quick fixer-upper as it helps you to relax.
Benefits of eye pillows
We all know the importance of a good night's sleep throughout the blog with each kind of pillow being designed to improve sleep. Eye pillows will shut out all light from peeping in and help you achieve very deep sleep.
I don't know about you but whenever I have a headache or just extra annoyed and stressed, I have the reflex of pressing on my shut eyes. It helps calm me down. The weight that is placed hits the nerve below the surface of the eyelid called the vagus nerve. Light pressure on the eyeballs will stimulate the vagus nerve which is responsible for regulating heart rate and digestion (yup, you read that right).
The vagus nerve is also the primary avenue which our belly brain controls mood, the main nerve responsible for our rest-and-digest system which helps induce deep relaxation, and it enables us to become our social selves and connect with other people which is a great way to release stress and build resilience against it.
A simpler explanation would be the cranial nerve responding to the light pressure on your eyes and sending a message down through your neck, chest, and heart. It then goes further down to your nervous system or abdomen. What is the message being sent? "Relax, unwind and something along the lines of pleasure"!
What to look for in an eye pillow
Now let's talk about design and quality. One thing to watch out for with eye pillows is their manufacturer. Because these products are easy to replicate or create, and can practically be filled with anything, it is essential to do a bit of research beforehand.
The first step would be figuring out what type of pillow you want, what effects it yields, the scent and filling, and how versatile it should be. If you are someone who hates the scent of lavender, then you will need to do a bit more digging because this is the most common eye pillow scent being offered on the market. If you prefer a cool or warm eye cover, then go for eye pillows that can be chilled or heated up.
Next would be the outer characteristics such as straps and linings. Some pillows come with adjustable straps, buckles or Velcro which helps in keeping the pillow in place during the night. Among the three, Velcro has been proven to be the best because it stays in place without causing too much discomfort. As for the lining, you would want an eye pillow with a thin or inexistent internal lining. Other pillows boast of their linings made of wool or similar material but in the long run, could yield more discomfort because they tend to heat up and cause your face to sweat at night.
Lastly, your pillow must be heavy enough and block all light as this is their primary purpose. Go for the ones that are entirely opaque yet not too bulky, so you don't become uncomfortable with continued use.
How to reach the optimal use of eye pillows
If you love the light and your house is filled with it, then using an eye pillow to relax will be counter-productive. When you want to nap or sleep, make sure that your environment is sleep-conducive. Put on some blackout shades which serve as your first defense against unnecessary light. Ensure that your room is quiet as well, as this will amplify the effects of the eye pillow.
The goal of these pillows is relaxation and therefore, they can be used even at the back of your neck and back to relieve muscle pain and tension. Heck, buy three so that you can use them all the same time. As mentioned earlier, there are eye pillows that could be warmed or chilled, and some have high insulation technology that it retains its temperature all through the night. Imagine having two or three points on your body that is prone to aches and pain is soothed by a warm compress.
Although if you want to address neck pain in particular, I've also researched the best neck pillows here.
---
Top three picks
DreamTime's Lavender eye pillow is considered to be one of everyone's top choice when it comes to eye pillows. It is both comfortable and durable. The pillow itself is filled with DreamTime's signature blend of flax, lavender, chamomile and orange granules which aids in stimulating relaxation and adds gentle acupressure on tired eyes and facial muscles while the aromatherapy boosts comfort and serenity.
It is made with high-quality fabric with one side having a velvety texture while the other is felt-like, depending on your preference.
It can be placed in the freezer and used cold to reduce any swelling and also relieve headaches.
The pillow comes with a side zipper so you can wash the cover or refill the contents.
Dimensions: 9 x 1 x 4 inches
Shipping Weight: 14.4 ounces
Directions:
To cool: wrap in a plastic bag, seal, and place in the refrigerator or freezer for several hours.
To wash: open the side zipper and transfer the filling into a container. Wash the cover in cold water and delicate cycle through a washing machine. Hang dry and refill contents.
Disclaimer: this particular DreamTime eye pillow cannot be warmed or heated in the microwave because of the little balls inside the pouch that will melt and ruin the pillow. Also, the metal zipper will cause further problems when microwaved.
The following customer reviewed the pillow and noted that side with a velvety-texture feels a little cooler compared to the side that is felt-like which is perfect for those who are extra picky with temperature.
"I've had several eye pillows, but this one is my favorite. I love how one side is soft – and maybe feels a little warmer, and one side is satiny – and maybe feels a little cooler. My kids also like this one, and they have taken mine. So, I have bought a few of these to have on hand. They are great for calming you down and helping you fall asleep. Also, when I have a headache, these help me a lot."- shopper
DreamTime Inner Peace Eye Pillow, Lavender Velvet, Soothing Aromatherapy Stress and Headache Relief for Wellness and Relaxation, Pack of 1
AT HOME SPA - Treat yourself to the luxury and comfort of a spa without leaving home. Soothe your senses, relax, and rejuvenate both mind and body.
ALL NATURAL STRESS RELIEF - Eye pillow is made of cotton and silk and filled with a mix of flax seeds, lavender, chamomile, and orange
COLD THERAPY - For headache or migraine relief, seal in a plastic bag and freeze overnight before use. The cool relief will soothe your aching head.
GENTLE ACUPRESSURE - The flax seed filling makes the eye pillow heavy enough to provide gentle acupressure along with the aromatherapy benefits
EASY TO CLEAN - The side zipper allows you to remove the grain fill so you can wash the fabric without damaging the eye pillow
---
This is another luxurious silk pillow that takes on the shape of your face when used. It contains natural lavender and flaxseed to provide calming aromatherapy benefits. For those who do not like lavender, then Savasana Now has got you covered. They made this available in an unscented version.
An eye pillow that could be heated up and becomes a therapy pad to reduce tightness on the neck, shoulders and other parts of the both or chilled in the freezer for migraine relief, eye inflammation or puffiness, this pillow is as versatile as can be.
Another perk this pillow has is its carry bag. You can bring it with you anywhere, whether to a yoga session or travel. It also comes with a removable and hand-washable outer covering.
However, the Savasana isn't enough to use as a traveling pillow since it's quite small. And if you're looking for a great travel pillow, I wrote an article that's perfect for you.
But wait! There's more! Savasana Now is even offering free meditation audio which you can listen to while using the pillow to relax. What a great bundle, indeed!
I love the design of the pillow. Just looking at it makes me relaxed already.
Dimensions: 9 x 4 inches
Shipping Weight: 11.2 ounces
Directions:
Cooled, warmed and washed the same way as other eye pillows. Just take note to remove the inner portion and pop that into the microwave sans outer layer with the zipper. Shake or knead the inner pack to renew the lavender scent which lasts for about a year. Store in a cool and dry location to preserve the scent.
The Savasana audios come in 10, 20 and 30-minute lengths that are designed to quickly relieve stress and anxiety or prep you for deep sleep.
The following satisfied customer shares this eye pillow has helped her severe migraine.
"I was recently diagnosed with a severe migraine and tried everything. Oil, ice pack, pills, etc. you name it. I tried it all. Ice pack helped for 5 mins but I get warm fast. But that's when I found out about eye pillow with lavender!!! It smells amazing (it calms me down when I'm having a migraine) and the coolness lasts longer than an ice pack. (I normally put it in the freezer for a bit before I use it)" –Kelly
EYE PILLOW LAVENDER + Flax Seed Filled + Carry Bag. Silk Fabric - Use for Yoga, Natural Sleep Aid, Stress Relief, Anxiety Relief, Meditation, Massage Great Relaxation Gift
Luxurious silk eye pillow conforms to the contours of your face to block out the light. Luxurious design makes it a great Valentines day gift.
Natural lavender & flaxseed provides calming aromatherapeutic benefits; great sleep mask - no uncomfortable straps. Also available unscented on another listing.
Doubles as a hot therapy pad for reducing tightness in the neck, shoulders & elsewhere
Chill it in the freezer for migraine relief, eye inflammation, hot flashes, to reduce puffy eyes and more
Carry bag = keep clean when transporting. Audio's: 10, 20, & 30 minutes(day use) + special 27 minute bedtime version (follow registration instructions to download them)
---
There must be a reason why this particular pillow has over 2000 reviews on Amazon with a 4.5-star rating. Made with breathable cotton lycra material that is comfortable to wear, this pillow soothes tired and puffy eyes. It is filled with ergo-beads which gives you a gentle eye massage every time. This eye pillow that subtly looks like an eye mask is great for meditation, traveling strain, eye relief, sinus pain, puffy eyes, and post-surgery recovery.
The stitching where your eyes are supposed to go removes unwanted pressure on the eyes to maximize comfort and ease of use. If the strap is loose on the head area, other users stitch the excess together to obtain a snug fit. The pillow can be frozen for added stress relief.
Its outer cover is machine-washable which gives you the assurance that this product is made to last. Perhaps the reason why it stands out above the rest is its adjustable strap. You don't have to worry about the pillow falling off your face while you sleep and can enjoy its benefits all night long.
Dimensions: 1 x 5.5 x 10 inches
Shipping Weight: 7.2 ounces
Directions:
When freezing, place mask in a plastic container to keep the fabric from absorbing smells. While it is not stated in the product description, further research has shown that this pillow cannot be warmed.
The very satisfied customer below shares why she loves this eye pillow and has even given these as gifts. "2 years ago, I bought one for myself, best eye mask I ever had. Love love the cool feeling, the beads that form to your face giving you complete darkness. I then bought them as godparent Christmas gifts. Just recently my sister-in-law asked where I bought it she needed another and settling for others she found wasn't cutting it. After 2 yrs. mine has a stretched elastic band so I have my next one bought and waiting. Oh bought my husband one for this past Christmas so he would stop stealing mine lol" -Julie
IMAK Compression Pain Relief Mask and Eye Pillow, Cold Therapy Headache, Migraine, Sinus Pain, Patented, Universal Size
Pain-Relieving. This eyemask pillow was designed by an orthopedic surgeon to provide relief from migraine headaches, tension headaches, sinus pain and eyestrain. Its massaging ergoBeads provide a gentle massage effect around the eyes, while its patented stitching design alleviates direct pressure on eyes.
Soothing. The IMAK Compression Pain Relief Mask is also great for relaxing, resting, meditation, alleviating travel strain, and providing eye relief after hours of computer work or gaming. Its weighted compression aids in the feeling of relaxation.
Use It Chilled. You can store your IMAK headache eye mask in the freezer to provide soothing cool relief for tired and puffy eyes, without the harshness of ice or frozen gel packs.
Light-Blocking. This weighted eye mask for sleeping conforms to the face and eyes to block out light, making it excellent for falling asleep and staying asleep. A durable elastic strap keeps the mask in place for side-sleepers.
Comfortable. This sinus eye mask's breathable cotton material is comfortable to wear and feels gentle against the skin. It is not made with natural rubber latex, eliminating the risk of allergic reactions.
---
Final thoughts
One thing I've observed as the days pass by is the increasing difficulty in truly relaxing. We are busy people, and it is incredibly hard for us to chill and be still, much like how many yogis find savasana to be harder than all the body twisting, balancing and bending. We constantly push ourselves to function past our productivity limits which are unhealthy because of the strain it puts on our bodies and minds. We also end up fidgety when it is time to be still and relax.
Therefore, it's time to seek some outside help from eye pillows. According to yogadirect, "using an eye pillow for 10 minutes a day, preferably during savasana or before bed, can aid in training yourself back to what is instinctually needed for your own survival and happiness".