What Pillows Do Hotels Use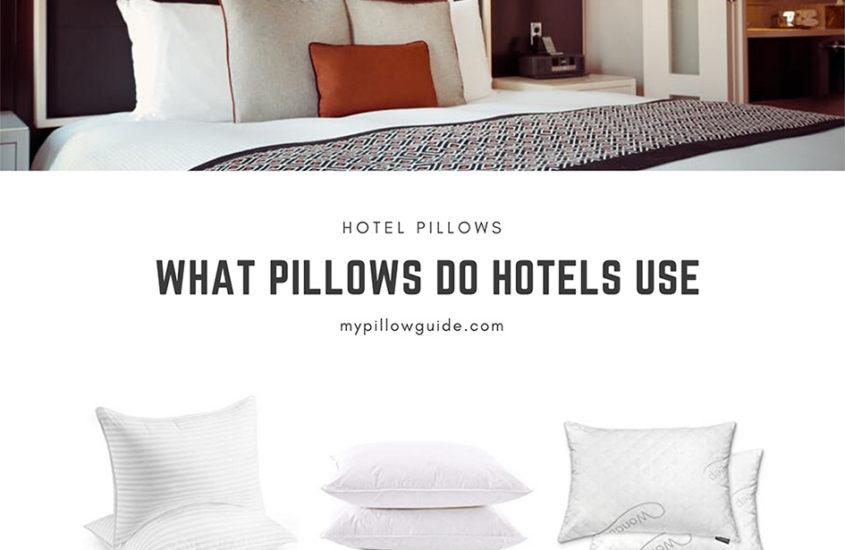 It's true that hotels have a certain draw that makes them attractive to stay in.
We all love spending a few nights in a hotel away from home. And why not?
Me and my other half love being pampered around the clock! Feeling like a king and queen in the lap of luxury is something we always miss when it's over.
Part of this comfort is in the hotel sleeping arrangements. One of the questions I found myself asking was, 'what pillows do hotels use?'
The theory behind my thinking was if I find out which pillows they stock, I could buy them myself.
After a little research, it turns out they are not so hard to find! Re-creating that has experience is actually pretty easy.
If you were thinking the same as me, read on to find out what pillows hotels use!
The Types Of Pillows Hotels Go For
The preference that people have personally for pillows can vary greatly.
When it comes to the pillows that you will find in a hotel, the ones that are chosen are chosen because of their ability to fulfil certain comfort needs. Some of the aspects hotels consider pillows for are:
Sleeping Position
Allergies
Size Of The Sleeper
These are just a few of the factors you can expect hotels to think about it when stocking pillows. A hotel's main duty is to make sure every guest has the right amenities to make sure they're comfortable.
Guests that sleep well are often satisfied, so having different pillow preferences to suit each guest can go a long way. This doesn't mean, however, that hotels will stock hundreds of different pillows.
Common Pillow Variants
In actuality, there will be maybe a selection of five different pillow types that guests can choose from. In many hotels, the types of pillows you can find will be as follows:
Goose or duck down
A feather down blend
An alternative to down
Below, we will take a look at these types of pillows, and the variations on them that you may find in most hotels.
Goose Down
In upmarket hotels, you will often find pillows made from goose down, or in some cases, duck down. These pillows are specifically included to please the majority of the crowd. They can be offered in medium and firm varieties.
Feather And Down Blend
These types of pillows mix down and feather. While they are quite comfortable, they are a cheaper alternative than having all down pillows. Some of them are there just to provide a pillow that is firmer, and some are used for sitting pillows.
This blend can be offered in a variety of mixes –
50/50
As you might have guessed, these pillows are blended equally on each side. They give the support of feathers, while allowing for the comfort that down provides.
As mentioned before, you will see these pillows in place of pillows made from all down.
Chamber
Chamber pillows have a mix of 15% down with 85% feather. They are a more lofty option than having the firmness of a down pillow. They get their name from how they are put together.
These pillows have alternating chambers that are stuffed with different materials. If guests are looking for a firmer pillow, these types of pillows are a great option.
5/95
With a mix of 5% down to 95% feather, these pillows have the most firmness out of all blends. The firmness makes them great for sitting up in the bed. They are also a great pick if a guest would just like a very firm pillow.
Down Alternative
If guests have an allergy concern, and alternative to down can be offered.
Alternative options will come in both medium and firm densities. Depending on which hotel you are staying in, the quality of this type of pillow can vary quite a bit.
As you can see, there are plenty of options that hotels can offer guests without necessarily going overboard. So what about the pillows from the hotel that you like to stay at?
What Pillows Do Hotels Use?
With a huge range of hotels across the country, finding out and listing all of the pillows that they offer would be an enormous task.
Rather than do this, we found the pillows that the biggest hotels seem to stock. What's more, because of the influence these hotels have, many smaller hotels will copy the choices these hotels make when it comes to pillows.
Hilton
Hilton uses a range of three types of pillows. They have down pillows, a down and feather combo and an alternative to down. These pillows are easy to clean and look after, and are allergen free. The alternative option is less expensive.
Marriott
The Marriott selection of pillows include a feather and down option, a down option, and an eco-down alternative, with some decorative pillows also.
Ritz-Carlton
The Ritz Carlton is often one of the first chains that comes to mind when people think of a luxury hotel. They are very much associated with opulence, with a reputation having been built on a meticulous eye for detail.
And it makes sense, of course, that with everything in their hotel being decadent, the pillows will be as well.
Their options include a 100% white down with a moderate firmness and a down alternative that is eco-friendly.
Most importantly, however, is the Ritz-Carlton's signature pillow. This is put together with a chamber design that is triple layered. The inside of the pillow is filled with down, while the outside is comprised of a down blend. Decadent indeed!
Getting The Right Pillow For You
With all of these options available to hand, finding the right pillow that you need for the proper nights sleep can be daunting.
However, by looking at the options hotels use, you might be able to find the most amount of comfort and luxury possible.
How about you treat yourself to a luxury hotel life experience?
'What Pillows Do Hotels Use,' is an easy enough question to answer.
If you need more tips on how to get the perfect pillow, check out some of our other articles for more info.