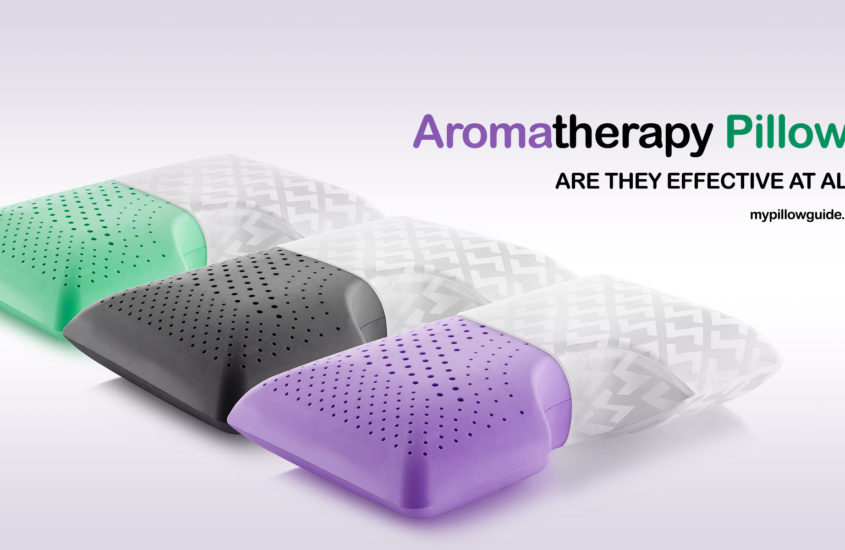 Scent-infused pillows – are they effective at all? 
So I recently found out that these are for real. There are pillows that smell good and are designed to help you relax well and sleep better. Sounds like a great concept, doesn't it?
I must confess to you that I love, love, love this idea.
And why? Well, to begin with, I've had sleep issues since I was a little girl. I have the kind of mind that goes on and on like a hamster on a wheel, especially in times when I am stressed, when my workload is extra heavy, or when I've had a fight with my mom, BFF, or my boyfriend. (Pardon the overshare.)
But my insomnia does get more intense during difficult times, and so everything that helps me sleep is very welcome. I don't want to get dependent on pills, and natural remedies like melatonin don't work for me. However, the more I do research on getting better sleep, the more I am reading about how the smell of lavender brings on sleep—whether it's in the form of essential oils being diffused in your bedroom or lavender body lotion that a bunch of people swears is effective.
So, you can understand that when I read about scent-infused pillows, my eyes lit up, and I could not wait to read all of them.
But first – let's talk about the pillows themselves.
A Pillow with a Cause 
These aromatherapy pillows are from the company Malouf, and you can read all about them here. These pillows are made of "Zoned Dough" Memory Foam, for both comfort and support. The memory foam in this pillow is built to conform to the shape of your shoulders, neck, and head for maximum support. The pillow is covered by a Breathable Tencel® Mesh Cover designed with big holes in the middle and smaller and smaller holes toward the edges of the pillow. This is to allow for good airflow to keep your pillow cool, which means you stay cool as well.
Best of all, Malouf has a foundation and for every pillow that you buy, $5 goes toward the support of children who are sex trafficking survivors because "we believe every child deserves freedom, justice, dignity, and a safe home."
So the Malouf Z Activedough series is a great pillow already, isn't it? I love it that the manufacturers of the pillows are supporting a great advocacy and that there is a good cause behind these babies.
There are actually five pillows in Malouf's Z Activedough series. Activedough is a combination of memory foam, for comfort, and latex, for support. The five pillows are
Chamomile (yellow)
Lavender (purple)
Peppermint (green)
Charcoal (grey)
Cooling gel (blue)
For our purposes today I am only writing about the scented pillows (chamomile, lavender, and peppermint), although the other two seem pretty neat, too.
The grey charcoal infused pillow is naturally hypoallergenic and is specially designed for people who suffer from asthma and allergies.
The blue one is, as the name suggests, infused with cooling gel, and is for people who need to keep especially cool when they sleep, for example, women who get hot flashes in the middle of the night, or cancer patients who are undergoing radiotherapy and may be experiencing burns on their skins.
---
So let's start with the chamomile pillow. Chamomile is reportedly an antioxidant and has anti-inflammatory and anti-cancer properties. In addition to this, there are other advantages that chamomile has
It cures insomnia.
It's a natural treatment for muscle spasms.
It fights Pre-Menstrual Syndrome and other menstrual cycle problems.
It's a remedy for skin problems.
It's a treatment for ulcers.
It contains antidepressant and anti-anxiety properties.
It fights allergies and hay fever.
Malouf's  Z Activedough Chamomile Pillow is infused with sweet chamomile and is said to promote "calm and relaxation." The pillow itself is already infused with natural sweet chamomile and comes with a 2 ml spritzer bottle of chamomile oil when the scent has faded. This also allows you to control how much or how little scent you want on your pillow. According to Malouf, the chamomile will "soothe and uplift your mind and body while you sleep."
MALOUF Z Zoned Pillow Infused with All Natural Chamomile Oil-New ACTIVEDOUGH Formula is Responsive, Supportive, and Plush-Mid Loft-King
Quick response active dough conforms to the contours of your head and shoulders for the perfect balance between comfort and support
Infused with sweet chamomile oil that soothes and uplifts your mind and body while you sleep
2 ml spritzer included
Zoned technology design cradles your head while supporting your neck for premium comfort;for every pillow purchased, the malouf foundation will donate a portion of the proceeds to support child survivors of sex trafficking
King mid loft pillow measures 35 x 16 inches; backed by a 5-year u.s. warranty against manufacturer defects
---
Of the three aromatherapy pillows, the lavender pillow was the one I was most interested in, because of lavender's sleep-inducing properties. Lavender oil is the most widely used essential oil in the world today, which is maybe due to the high incidence of sleep problems around the globe. People have been using lavender oil for more than 2,500 years! Like chamomile, lavender is also an antioxidant, and it has sedative, calming, antimicrobial and anti-depressive qualities as well.
Lavender is said to:
Relieve pain
Decrease stress and anxiety
Help you sleep better
Aid your brain function better
Hasten the healing of wounds and burns
Protect against diabetes
Improve the skin and decrease acne
Cause the aging process to slow down (I like this one a lot!)
According to the people at Malouf, the pillow is "infused with calming lavender" that is supposed to "sooth you while you sleep." Like the chamomile pillow, it comes with an extra bottle of lavender oil for when you run out. 
---
The peppermint pillow comes in a soothing light green color. Peppermint has well known antimicrobial properties, and it relieves sore muscles when applied to the skin. It gives a welcome cooling sensation that is perfect for hot days. It is also known to help with a number of digestive issues, such as nausea, as well as dizziness.
Peppermint is known to
Relieve stress and headaches
Sharpen mental clarity
Give a boost of energy
Cause the respiratory tract to clear up
Loosen tight muscles
Malouf made a peppermint scented pillow "to promote clear breathing and clarity of mind." I can imagine what it's like to fall asleep on a minty-smelling pillow. Mmmmm…that sound really refreshing. The pillow also comes with the 2ml spritz bottle.
MALOUF Z Zoned Pillow Infused with All Natural Peppermint Oil-New ACTIVEDOUGH Formula is Responsive, Supportive, and Plush-King
Quick response active dough conforms to the contours of your head and shoulders for the perfect balance between comfort and support
Infused with refreshing peppermint oil to help provide a clean, clear, and calm sleep environment
2 ml spritzer included
Zoned technology design cradles your head while supporting your neck for premium comfort; incredibly soft and breathable Tencel mesh cover regulates temperature for all-season comfort
King mid loft pillow measures 35 x 16 inches; backed by a 5-year u. s. against manufacturer defects
---
Pillow Sizes 
What I love about the Malouf Z Activedough series is that it comes in several shapes and sizes, and prices, of course.
King sized, or 16 x 35
Queen size, or 16 x 29
Travel size (rectangle), or 12 x 16
Travel size (horseshoe), or 12 x 11
Very cool, right? As a frequent traveler, I love it that Malouf gives everyone two choices when it comes to shape and size of the travel pillow. And while we're on the subject of travel pillows, check out the comprehensive buyer's guide that I wrote here.
One more bonus – these Malouf pillows come with a five-year warranty.
Care Instructions 
One drawback to these pillows is that they cannot be completely washed. The most cleaning they can handle is spot washing with a very mild detergent. So, if you are prone to allergies, it's good to spot wash it regularly, and maybe even vacuum the pillow to prevent dust mites.  The zippered cover can, and should, be washed. The manufacturer even suggests washing it before the first use.
Like many memory foam pillows, these pillows from Malouf do emit a chemical smell in a phenomenon called off-gassing. Some users have complained, in fact, that the chemical smell is far stronger than the aroma of the lavender, chamomile and peppermint oils in the pillow. The manufacturer recommends washing the zippered cover before first use and then drying it in the sun.
The website also says that the pillow is sensitive to changes in temperature. It is firmer in cold weather and then softer when it's warm. In all my research about pillows, this is the first time I've ever heard of such a thing!
The Bottom Line 
Reviews of the pillow are generally good. Most people appreciate the extra special touch that the scents provide, and several have said that the scents contribute to a better, deeper, and more relaxed sleep. However, I have said this once and I will keep on saying it over and over again until the cows come home, you cannot please everyone. And pillows are highly personal objects, everyone has his or her own preference, right?
All that to say, some people were unhappy with the off-gassing effect the memory foam has like I said earlier. Some found the pillow, being a mid-loft type, to be too soft. Some found it too hard. Some loved these aromatherapy pillows, some did not. 
Most people, however, had a lot of positive things to say. Reviewers at oursleepguide gave the pillows an overall rating fo 4.53 out of 5 stars.
As for me, I can't wait to try it out! In fact, I think this is the next pillow that I'll order just to see if the lavender essential oil helps put me to sleep. I'll let you know if and when that happens (or not!).
How about you? Have you used an aromatherapy pillow before? Maybe you've made your own. If so, write and tell us all about it in the comments below.