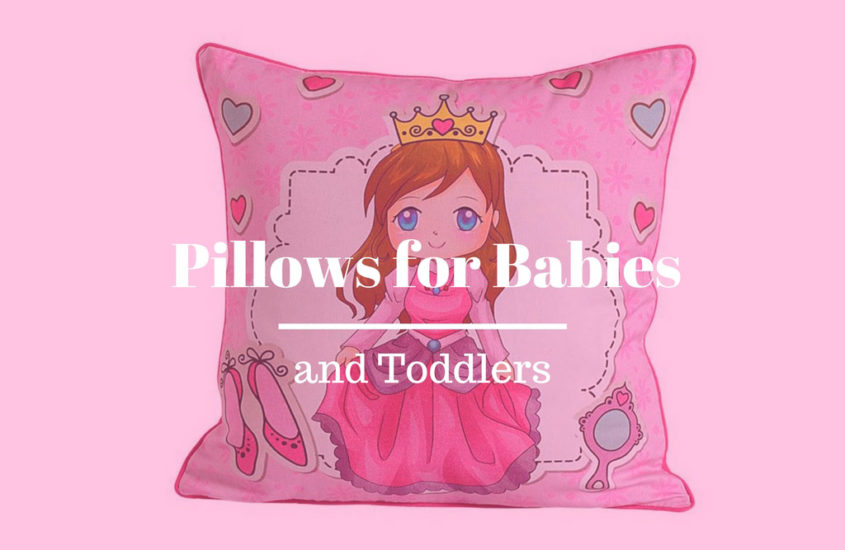 When is the best time to introduce a pillow to your child?
I have a friend who was planning a baby shower recently, and as I was looking for gifts for her new baby girl, I came across the option of buying toddler pillow, much to my surprise. Mind you, these pillows were adorable, coming in so many shapes and colors. They wouldn't just be useful to the new mom (who was a first-time mom, by the way) but they would be decorative for any child's bedroom or playroom.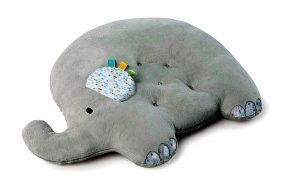 However, I think that everyone pretty much knows that newborn babies should not be given pillows or even extra blankets since these could possibly get stuck between the babies' noses and mouths, and prove to be dangerous for them. For this same reason, parents are told not to keep stuffed toys or "loveys" inside their child's cribs. To find out more about pillows and infant safety, check this article out.
But not long after their first birthday, parents can begin to start introducing pillows to their kids. Pediatricians say that 15 or 18 months, and maybe even two years is a good time for babies to start using pillows, maybe starting with a small and flat one, and then bigger ones as your child grows older.
But I was intrigued by the idea of baby and toddler pillows. If pillows are a definite NO for babies, why were there all these adorable pillows available both online and in brick-and-mortar stores?
What exactly are these pillows for?
The more I researched, the clearer it got.
These pillows are not for babies' little heads to lie on, but the full surface of these pillows are where babies get to play.
For example, this Comfort and Harmony Lounge Buddies Infant Positioner plush owl pillow is where the baby gets to lean on his or her back or tummy, and later on even sit up, while mommy has her hands free to do what she needs to do.
I can only imagine how liberating this must feel for mothers! Priced at less than $50, this would make a good gift for any mom. The owl has different fabric on it, as well as colorful ribbons, for the baby to play with.
---
Here's another toddler pillow – and this one will prove to be very helpful to mothers as well. The Leachco Cuddle U is a pillow for baby to lie down securely when their parents put him or her down. The strap in the middle provides safety for the baby and makes sure that he or she won't fall off.
But the Cuddle U also serves as a nursing pillow for feeding times. Since newborns feed many times a day, it's very important for mothers to find good positions for feeding their babies. The Cuddle U's hollow space goes around the mother's waist, and then the baby lies on top of the pillow so that he or she can feed easily in a comfortable position.
And afterward, when the baby is finished feeding, the mother can put the baby back in the Cuddle U where the slightly elevated position of the baby's head helps with digestion, so the baby avoids acid reflux. The Cuddle U is also very affordable, and its cover is completely machine washable.
Leachco Cuddle-U Original Nursing Pillow, Sunny Circles 19x18.3x6.6 Inch (Pack of 1)
When used as a lounger, use the seat wrap to help keep reclined babies in place
As a nursing pillow, the U-shaped design can help support for comfy feedings
When little ones grow big enough, use for tummy time and sit-up support
Tuck seat wrap into pocket when used for feeding, tummy time, or sitting up
Sham-style removable, washable cover
---
Did you know that there are actually toddler pillows that are designed to prevent flathead syndrome, which happens when a baby lies too long on a flat surface?
The Babymoon Pod looks like a tiny doughnut traveling pillow and is designed to be used when the newborn is awake, and not during night sleep when he or she is unsupervised. The Babymoon Pod has a hole in the middle where the baby can rest his or her head.
One end of the pillow has a velcro tab that fits with the other end so that the size of the hollow for the baby's head can be adjusted. This pillow is apparently so effective that it was voted as Best Pillow For Flathead Syndrome for 2017. It's attractively priced and comes in different colors and designs, and when the baby is six months old and older, it can also be used in the car seat as a travel pillow. It's also machine washable, which is a huge plus for busy moms.
---
Our next pillow is the Newborn Reflux and Congestion Relief This pillow or "Crib Wedge" was specially designed to keep the baby in an inclined position in order to prevent acid reflux.
It also helps the baby breathe when he or she has a cold or allergies because the baby gets to sleep with an elevated head. This pillow is one of the few memory foam products for babies, but because it's made of one solid material, it's not dangerous for babies when they sleep. It has quite a bit of heft to it, and so it won't move around in the crib.
You can return it within a month of purchase if you are not satisfied with the product.
Crib Wedge for Amazing Sleep | Newborn Reflux and Congestion Relief | Baby Pillow Sleep Aid | Universal Fit for Crib Mattress | Removable Cover & Waterproof Layer
THE BEST SLEEP OF YOUR LIFE- Our premium crib wedge perfectly fits newborn, infant and toddlers and is designed to elevate your child's body, head & torso. It will prop up your baby at the perfect 12 degree angle. This angle is scientifically proven to relieve baby's medical conditions to include acid reflux, excess spit-up, congestion and other doctor recommended benefits. This means your child will sleep better than ever and so will you!
SAFE AND EFFECTIVE- Modern Day Family's baby products include our premium crib wedge which is designed free from all harsh chemicals including BPA, Phthalates, Lead and PBDEs (flame retardants). We only use premium foam that passes stringent testing to conform to the highest safety standards. Feel at ease knowing your child will be sleeping on the best. The crib wedge also features a non-skid bottom so the wedge stays exactly where it's placed and does not move around.
PERFECT CRIB FIT TO PREVENT UNSAFE CONDITIONS- Our premium crib wedge is specifically designed to fit a crib mattress perfectly. At 27.25 inches wide our crib wedge prevents unsafe gaps between the wedge and the side of the crib. Other crib wedges can pose an unsafe condition by leaving gaps between the wedge and the crib walls. The wedge we use is tested to fit all standard size cribs, crib mattresses and pack and play style beds
WATERPROOF & SIMPLE TO CLEAN- At Modern Day Family we create products with parents and children in mind. Not only is this wedge perfect to relieve baby's medical symptoms but it's designed with parents in mind. This crib wedge is easy to clean and completely waterproof. The 100% luxurious soft cotton cover is easy to remove, odor-resistant, hypoallergenic and antibacterial. To clean the cover simply remove it and toss it in the washing machine.
90 DAY WARRANTY*- We know that you will absolutely love our product! If for any reason you don't love our product please contact us and let us know the problem and how we can make it right. Our customers AGREE that it's the best sleep their baby has ever had.
---
The Boppy Newborn Lounger is another pillow designed to give the baby a safe and comfortable space to "lounge" while mothers and fathers have their hands free.
It conveniently has a handle so that parents can bring it from one room to another, or even in the car, for visit to Grandma and Grandpa's house! It's made for babies up to 16 pounds, so you can be sure that a baby will get a lot of use out of it.
If I were a mom who was always looking for a safe place to put down my child, I would appreciate this pillow very much. The Boppy Newborn Lounger is made of a material that's easy to wipe clean and comes in elephant and propeller designs.
---
I really love this next pillow product – the Snuggle Me Organic Lounger
It works all the way from when the baby is a few days old, up until he or she outgrows it. It has a recessed middle area for the baby to rest, and then higher sides that are very soft, so the baby feels like he or she is hugged, and this keeps him or her safely in place all the time. One variant is made of 100 percent organic cotton with a washable cover, and based on reviews, parents, and babies love it.
If I were a new mom I would put this as number one on my gift wish list. It's a lounger, like the other pillows on this list, but what makes it different is that it's a lounger that you can use in bed if you want your baby to sleep in your bed with you, so it's also a co-sleeping bed.
Parents like it because they can keep their babies close at night, and so mothers don't have to get up during feeding time. And it has no extra fabric that could pose a danger to the baby, as long as you keep the blankets on your bed away from the baby. It also works well for when parents are traveling with their baby.
Now for the prices – and I'm putting that in plural because the Snuggle Me comes in different options. There's the original version, the organic version, and the wool version, which is $298 with a merino wool cover, and $258 with a regular print cover.
Yes, I know it's a pricey pillow for a baby! It may cost more than the pillow you have in your own bed. But I think it's worth it if it comforts the baby, and lets him or her sleep well. And when a baby sleeps well, it means his or her parents can sleep well too. And it looks like this pillow/lounger/co-sleeping device can be used for a very long time anyway.
Sale
Snuggle Me Organic Lounger + Cover Bundle | Baby Lounger & Infant Floor Seat with Cover | Newborn Essentials | Organic Cotton, Fiberfill | Natural
THE NEXT BEST THING TO BEING HELD IN YOUR ARMS. The Snuggle Me Lounger is a unique lounging pad designed to hug your baby's full body. This snuggling sensation is highly effective at calming and comforting your baby when you need extra support.
ORGANIC, SUSTAINABLE & ETHICALLY MADE. We are in love with the idea and quality of organic, USA-made baby items. We entrust local, Minnesota seamstresses and fillers with the crafting of each Snuggle Me Lounger. Made with organic, non-toxic, breathable, and hypoallergenic fabrics. Filled with polyester fiber fill for a fully machine washable lounger.
SAFETY IS OUR #1 PRIORITY. As inventors of the original baby lounger, we are leaders in our category for safety. As recommended by the AAP, NEVER use any baby lounger as a sleep device. NEVER use any baby lounger unsupervised. Use the Snuggle Me Lounger for actively engaging with your baby during supervised lounging, tummy time or as a changing pad.
BEST BABY GIFT FOR NEW MOTHERS. When you can't be there, you can still send the reassuring support of a Snuggle Me. Our baby lounger blends seamlessly into any home as a non-intrusive support aid, ready and waiting to give an extra hand.
BACKED BY OUR LOVE IT GUARANTEE. As modern moms, we want to create the best quality products for your family. If for any reason you are not satisfied, send everything back within your return window for a refund, no questions asked!
---
For bigger kids, teenagers and adults, I wrote a pretty extensive article about neck pillows for traveling.
So there we have it, folks – a very basic rundown of pillows available for babies. I know this list will be helpful for you if you have a baby, or are planning to have one in the near future, or, if, like me, you've got good friends who are having babies and you need good ideas for what you can get them.
Any moms and dads in the house with anything to add about toddler pillows? Maybe you used a different pillow for your newborn, and you'd love to recommend it so I can put it on my list?
Write to me and let me know. I love hearing from fellow pillow-aficionados. I think the internet is a wonderful place to share ideas and answers about the things we care about the most. Until next time, ciao!